Most documents on Corporate Messenger can be signed electronically. A default NowInfinity DocuSign account is available free of charge for platform subscribers, however if you have a DocuSign account, and wish to use this instead, you can.
To connect to your custom DocuSign account, navigate to Menu > Portal Settings > DocuSign: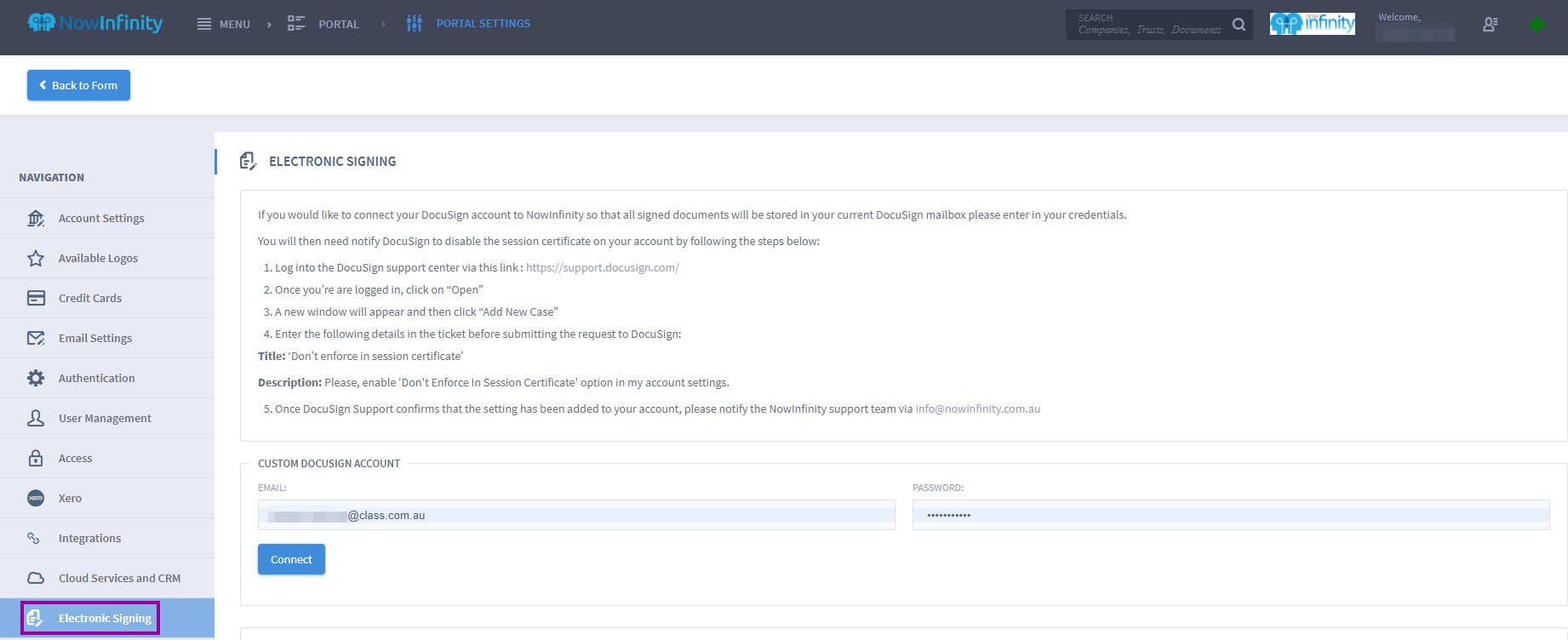 Enter your DocuSign credentials (email address and password) and click Connect.
Note: If you have 2 Factor Authentication (2FA) enabled on your DocuSign account, this will need to be disabled in order to complete the connection. Once connected, you can re-enable your DocuSign 2FA.
Enabling Access Codes
With your own DocuSign account, you can enable the Access code option. Adding an access code for your recipients adds an extra level of security to the documents. You add the code to a document, and then communicate the code to the recipient.
The recipient must enter the code correctly to view and sign the document.
Limits: The code can be up to 50 characters long, and contain alphanumeric and special characters, except for "<", ">", and "&#". You can use upper-and lower-case letters, but the code is not case-sensitive.
Your DocuSign administrator can set access code rules to specify the requirements for valid codes.
When a document is sent for electronic signing the access code will be shown against each signatory:

You can disconnect your own account at any time by clicking on the Disconnect button. The NowInfinity default DocuSign account will then apply.
Note: If you would like to connect your DocuSign account to NowInfinity so that all signed documents will be stored in your current DocuSign mailbox, enter in your credentials.
Next, you will need to notify DocuSign to disable the session certificate on your account by following the steps below:
Log into the DocuSign support center via this link : https://support.docusign.com/
Once you are logged in, click on Open
A new window will appear and then click Add New Case
Enter the following details in the ticket before submitting the request to DocuSign:
Title: "Don't enforce in session certificate"
Description: Enable "Don't Enforce In Session Certificate" option in my account settings
5. Once DocuSign Support confirms that the setting has been added to your account, notify the NowInfinity support team via info@nowinfinity.com.au
This is required to use NowInfinity email templates rather than the DocuSign standard email template.
Note: DocuSign may inform you that you need to upgrade your DocuSign subscription in order to connect it with the NowInfinity platform and utilise our email templates. If you do not wish to upgrade your account then it would be best to use the free DocuSign account provided by us.