Question:
Can I generate a ''Non-Lapsing'' Binding Death Benefit Nomination (BDBN) on NowInfinity?
Answer:
In short, yes. You can generate a non-lapsing BDBN on our platform.
NOTE: The following message will appear when you click into the BDBN document form -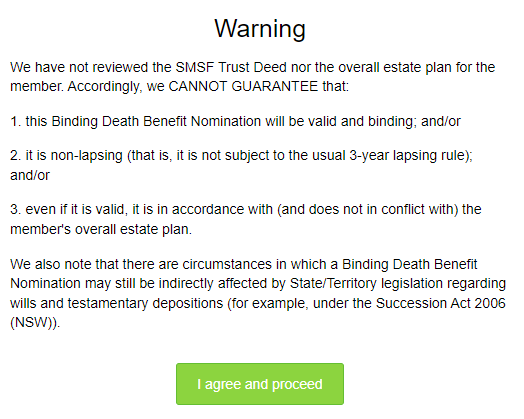 The warning states inter alia that we cannot guarantee the BDBN will be non-lapsing. This is because the BDBN our platform produces does not state a period of lapsing. It is dependent on the terms of your client's SMSF Deed as to whether it allows for lapsing or non-lapsing.
For example, the NowInfinity SMSF Deed does allow for both lapsing and non-lapsing. It therefore falls on the power of the trustee to apply whichever is appropriate,, where applicable, under the relevant law.
Disclaimer: You acknowledge and agree that our Services and Materials do not constitute or contain personal or general advice for the purpose of the Corporations Act 2001 (Cth) and that we, our employees and advisers do not offer any legal, accounting, tax or other professional advice or services in connection with the provision of our Services and any Materials.