The LRBA Suite service will provide for the establishment of the Holding (i.e. Bare, Property) Trust and the relevant LRBA (Limited Recourse Borrowing Arrangement) documents.
The template can be accessed from Menu > Create Document > Loans > LRBA Suite: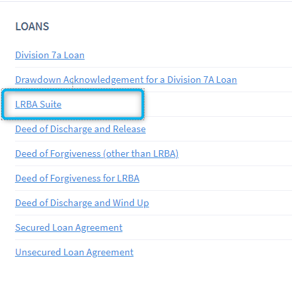 Within the LRBA suite, you can select from one of the following options:
New Holding Trust and LRBA;
Amending Existing Agreement;
LRBA Refinancing with Existing Lender; or
LRBA Refinancing with New Lender.
Further information
Limited Recourse Borrowing Arrangement (LRBA) and Bare / Holding Trusts
What documents are included in the LRBA Suite?
Note: This article provides only general information and is not to be relied on as legal advice. Due to the complexity involved with LRBAs, we recommend that you engage with a licensed specialist/professional to assist in its set up in order to ensure its compliance with the tax and superannuation borrowing rules.
Disclaimer: You acknowledge and agree that our Services and Materials do not constitute or contain personal or general advice for the purpose of the Corporations Act 2001 (Cth) and that we, our employees and advisers do not offer any legal, accounting, tax or other professional advice or services in connection with the provision of our Services and any Materials.