Below are the steps for using bundle changes.
Note: Changes are limited to 100 companies at a time.
Navigate to Menu > Companies (located under Corporate Messenger)
Note: Bundle changes do not appear until companies have been selected from the companies list.
Tip: Bundle changes allow you to make changes to multiple companies by generating all forms at once.  
The following changes are available via Bundle Changes:
Change of Address.
Change of Name.
Appointment and resignation of an officer.
Deregistration. 
A combination of all the above.
For example, bundle changes can be used to:  
Change the registered address for all your companies.
Change the name of one of your clients acting as director or shareholder of multiple companies.
To start making bundle changes, select the companies you would like to apply the changes to.
To do this you can use the advanced search (insert link to article '5. Search Function' located under section 5.5.2 of The companies list) or via pins (if you have these set for groups of entities).
Once multiple companies have been selected, the bundles changes tab will appear next to the 'Actions' Menu.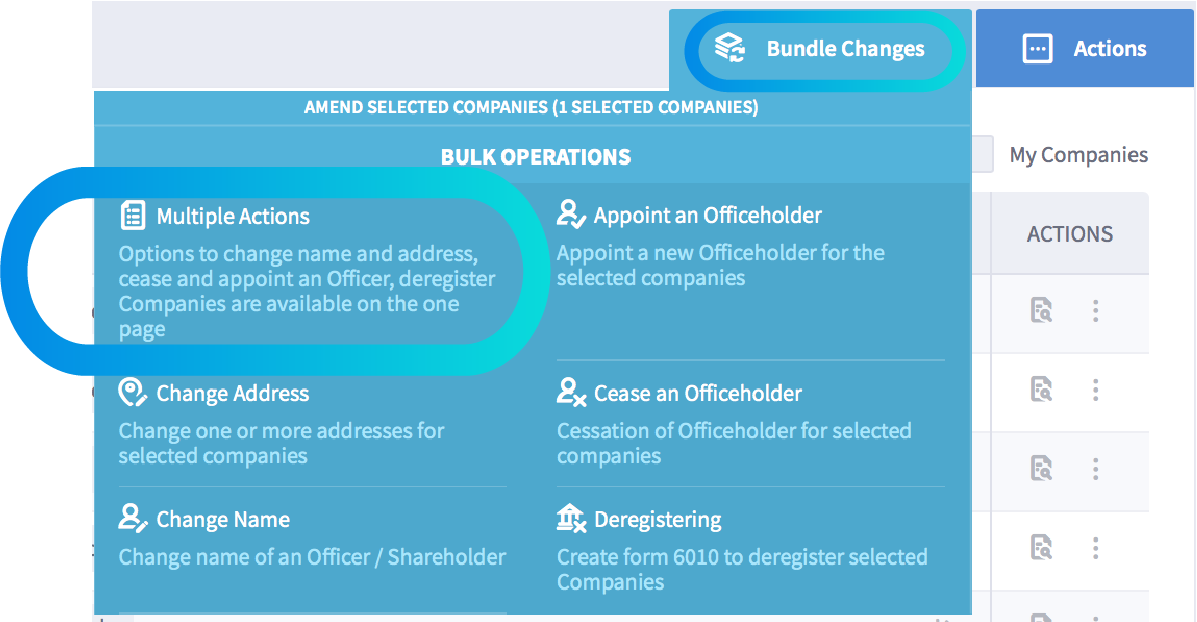 Select the change you wish to make, and you will be redirected to the Bundle Actions Page.
Alternatively, you can select 'Multiple Changes' if you wish to make more than one change to the selected entities.
1.'Bundle actions' page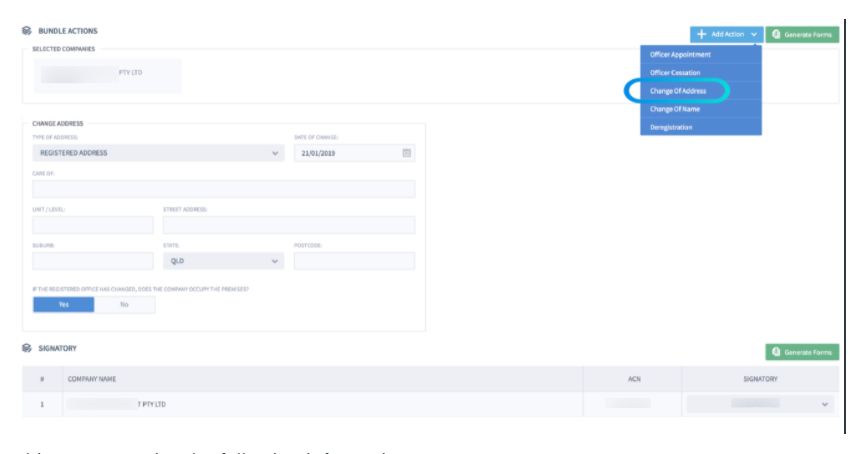 This page contains the following information:
Selected Companies: which includes all the companies you have selected for the changes. You can choose to remove any of them by selecting the 'x' button.
The changes: enter the new details.
The signatory: for each company choose who will sign the documentation.
At the top right corner an 'Add Action' menu is available. This allows you to add another change.
When you have entered all information, click 'Generate Forms'.
Tip: Note that the system generates one 'minutes of meeting' per change. Therefore, if you have selected multiple actions such as an appointment of director and a change of address you will receive one minutes of a meeting for the appointment and a second one for the change of address.
After the above step, you will then be redirected to the 'Incomplete Lodgements' tab within the Lodgements section, where all forms generated are now 'waiting for signature'.

Click on 'Actions' if you would like to download the documents, get the documents e-signed or lodge with ASIC.
2. Types of Changes
2.1. Change address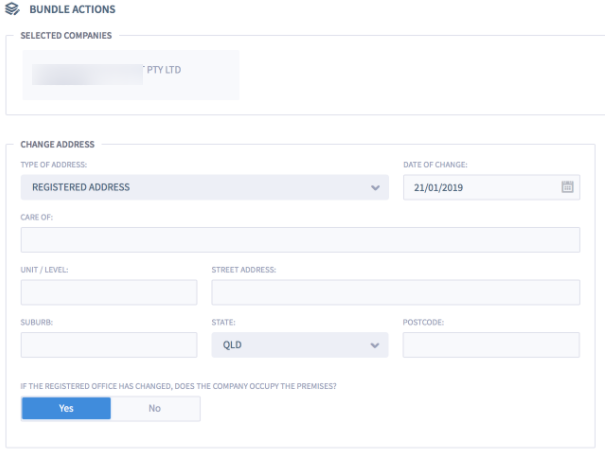 The following addresses can be changed:
Principal address: selected in the drop-down by default.
Registered address.
Officer's residential address.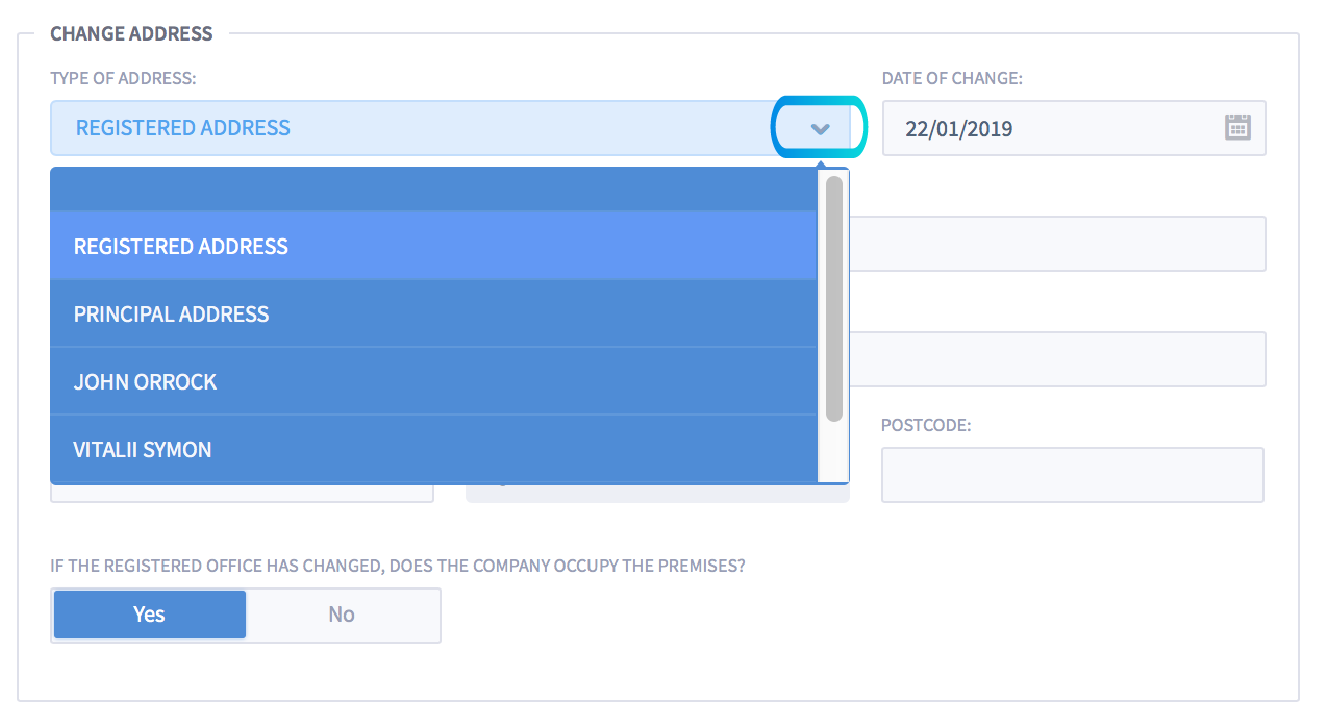 Tip: When entering the effective date of change there will not be a notification if the date of change entered triggers a late fee. (Late fees are triggered when a form is lodged more than 28 days after the effective date of change).
If an additional address requires changing, click on the 'Add Action' and select 'Change of address'.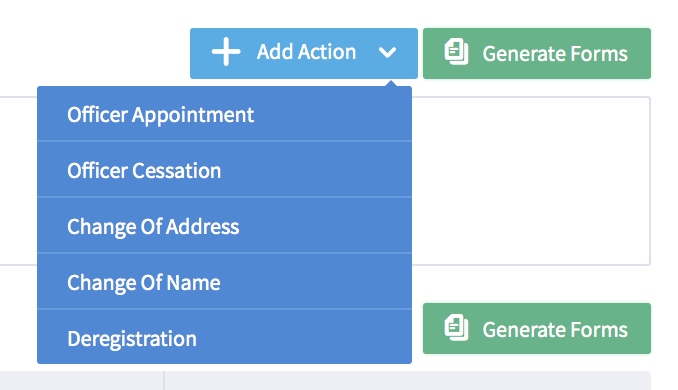 2.2 Change name

The 'Change name' block contains:
A list of Officers from all selected Companies.
Fields for inputting a new name: First, Middle and Last names. (First and Last names are required).
To change name for another Officer, click on the 'Add Actions' menu and select 'Change of Name'.
2.3 Officer cessation
'Cease officer' block contains:
A list of Officers of the selected Companies. First Officer is selected by default.
Reason of ceasing: resignation, removal or death
Date of cessation. Default date - the current date.
To cease another officer, click on 'Add Actions' and select 'Officer Cessation'.
2.4 Officer appointment

'Appoint an officer' block contains the following data:
Full name fields:
First and last names are mandatory.
Role (required):
Director.
Secretary. 
Director and secretary.
Alternate Director.
Note: If the role is Director, Director and Secretary or Alternate Director the DIN will be part of the question. While this this field will appear it is not mandatory.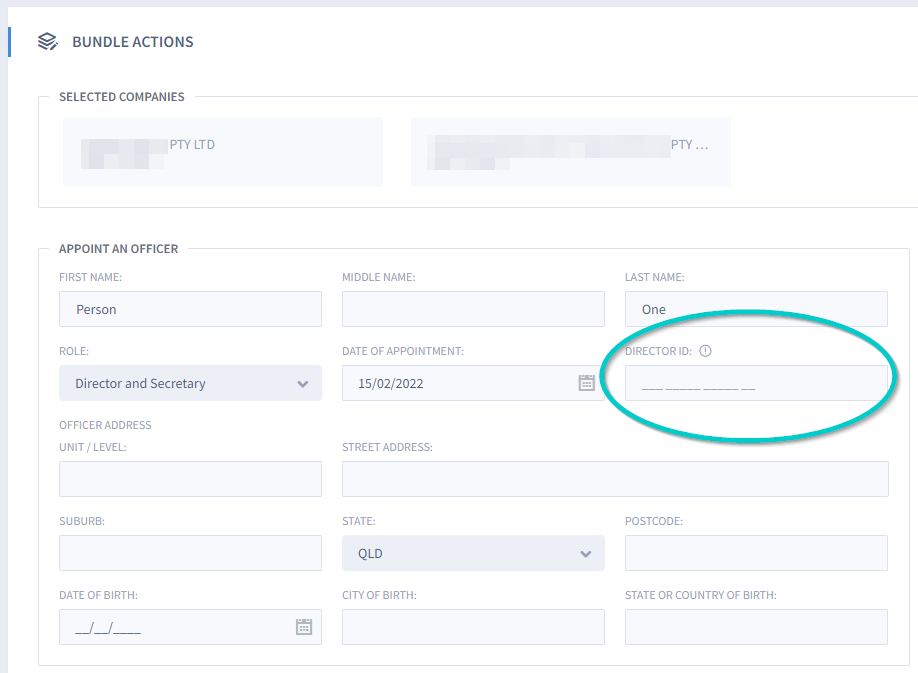 Date of appointment (required) - empty by default.
Address block (required).
City of birth (optional).
State or country of birth (required).
Date of birth (required). Validation - 18 years at least.
To appoint one more officer, click on 'Add Actions' and select 'Appointment of Officer'.
2.5 Deregistering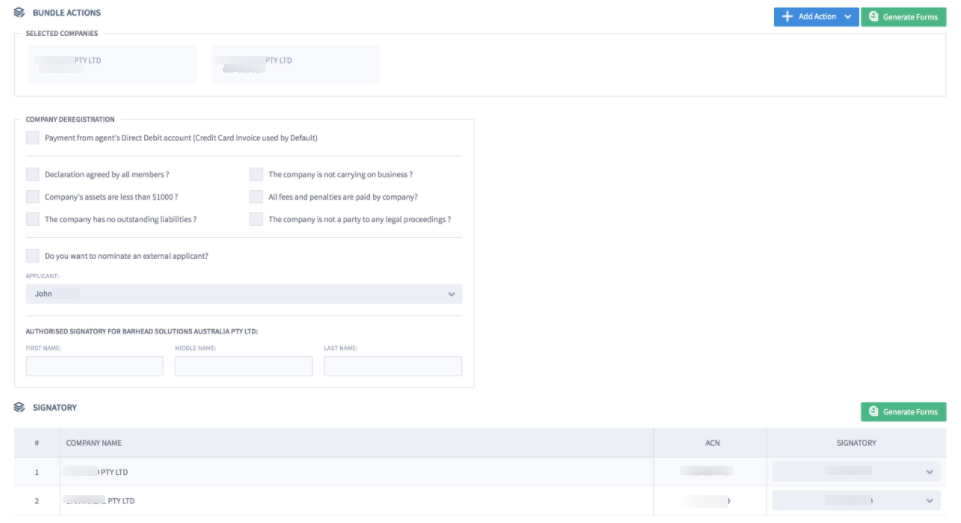 The Deregistering block contains the following fields:
'Payment from agent's Direct Debit account': Select this option only if you have a Direct debit account with ASIC and wish to be debited directly from this account. If the option is not selected, a payslip is generated and will need to be paid by your client for the deregistration to take effect.
The following needs to be ticked to be able to deregister companies:
- Declaration agreed by all members.
- Company's assets are less than $1000.
- The company has no outstanding liabilities.
- The company is not carrying on business.
- All fees and penalties are paid by company.
- The company is not a party to any legal proceedings.
You can then choose to nominate an external applicant.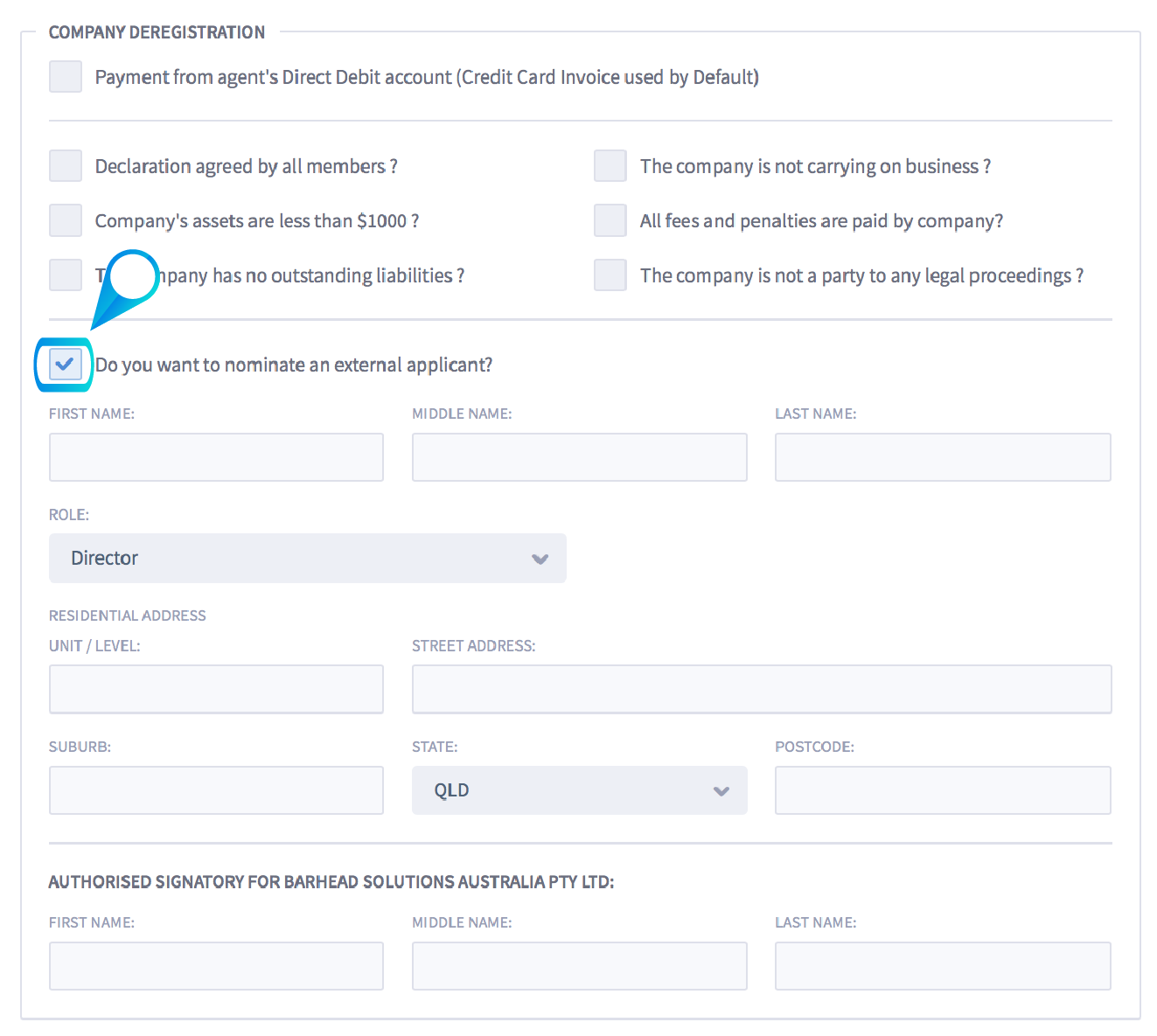 If the company has corporate and/or NBO shareholders, the names of the authorised signatory should be inputted.