Once the form has been signed, the next step is to lodge the form with ASIC.
Note: forms can be lodged without a signature; however we recommend obtaining the client's signature(s) prior to lodging a form.
There are 2 ways to lodge a form:
From the collaboration page: you will notice that the status has been updated to 'Signed successfully'. Click on 'Lodge' to send the documentation to ASIC.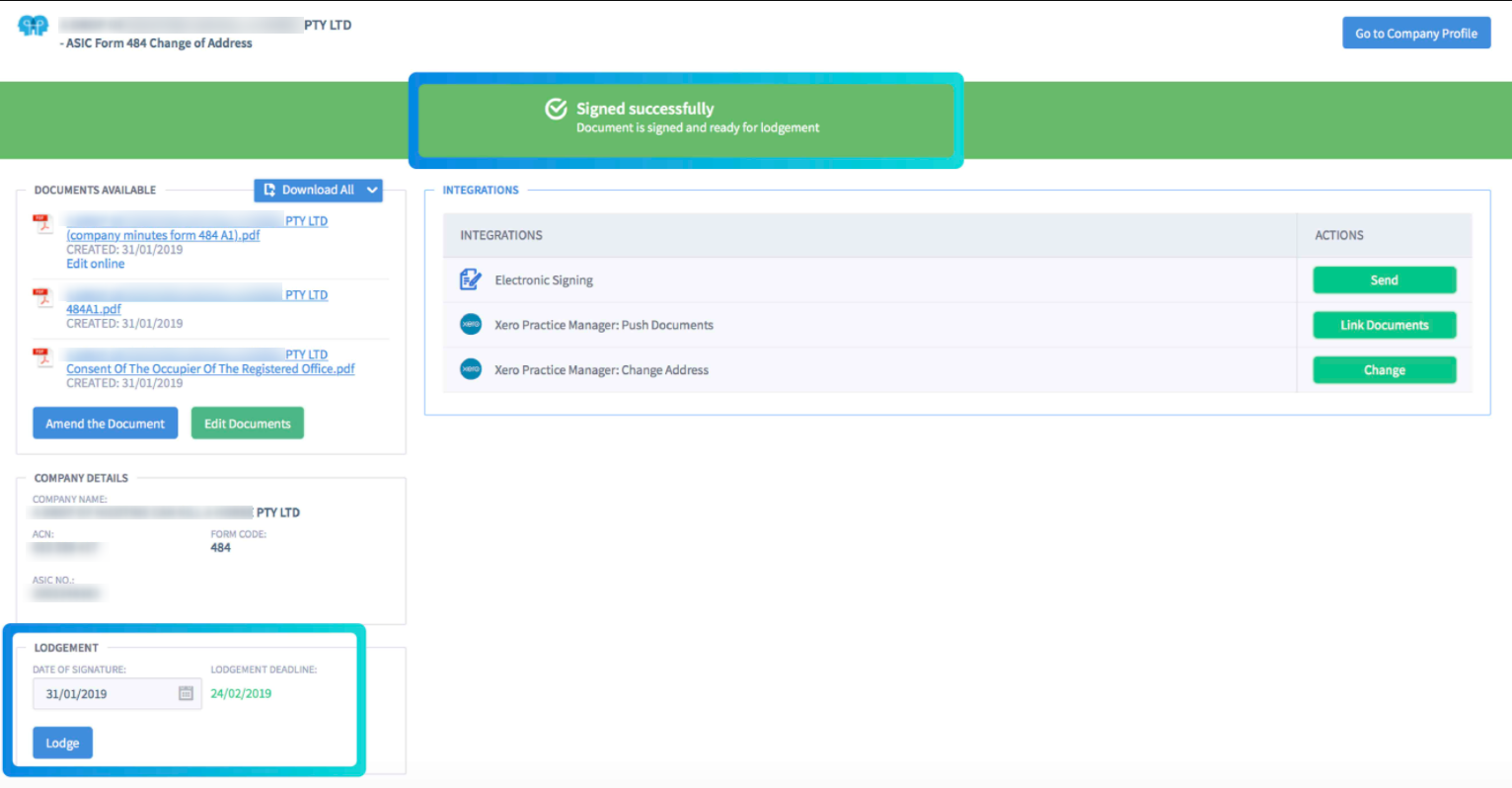 From the Lodgement tab: Navigate to Menu > Lodgements. Select the form that is ready for lodgement and click on the 'Actions Menu' and 'Lodge Selected'.
When lodging a form, you might come across the following notifications:
"Other forms ready to be lodged for this company".
If other forms have been prepared for this company and are yet to be lodged, you will receive the following notification. This will allow you to proceed with the lodgement, lodge multiple forms in one transaction or cancel the lodgement.

If you click "Yes" to merge the forms as one transaction, you will be redirected to the Lodgement Tab to finalise incomplete lodgements.
A lodgement may incur a late fee if a form is lodged 28 days after the effective date.

You may proceed or cancel the lodgement.
When the documentation is submitted to ASIC, the status will update from 'Signed Successfully' to 'Your Message is Pending'.
Once transmitted to ASIC, the status will be updated to either:
'Successful Lodgement' if the form has been lodged successfully or

'ASIC Rejection' if the lodgement has been rejected. The reason for the rejection will be available below the status, with the option to edit, access the company profile or delete the document.


When the lodgement is successful the changes are applied to the company's profile.