Key words: Hard Copy, Hardcopy, Printing, Slimline, Folder, Binder
Question
How can I order a hardcopy of a document?
Answer
The Presentation page of the forms, provides you with two options when ordering a hard copy of a document:
Slimline - a

Slimline presentation folder for easier filing, containing two hard copies of the documents.

Hard Copy - a

high-quality binder containing three hard copies of the documents.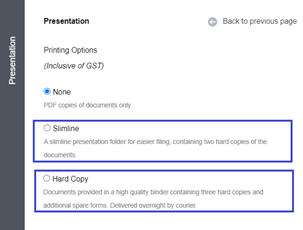 Here is what they look like:
1. Slimline: a Blue slim cardboard folder for holding documents with the NowInfinity Logo on it.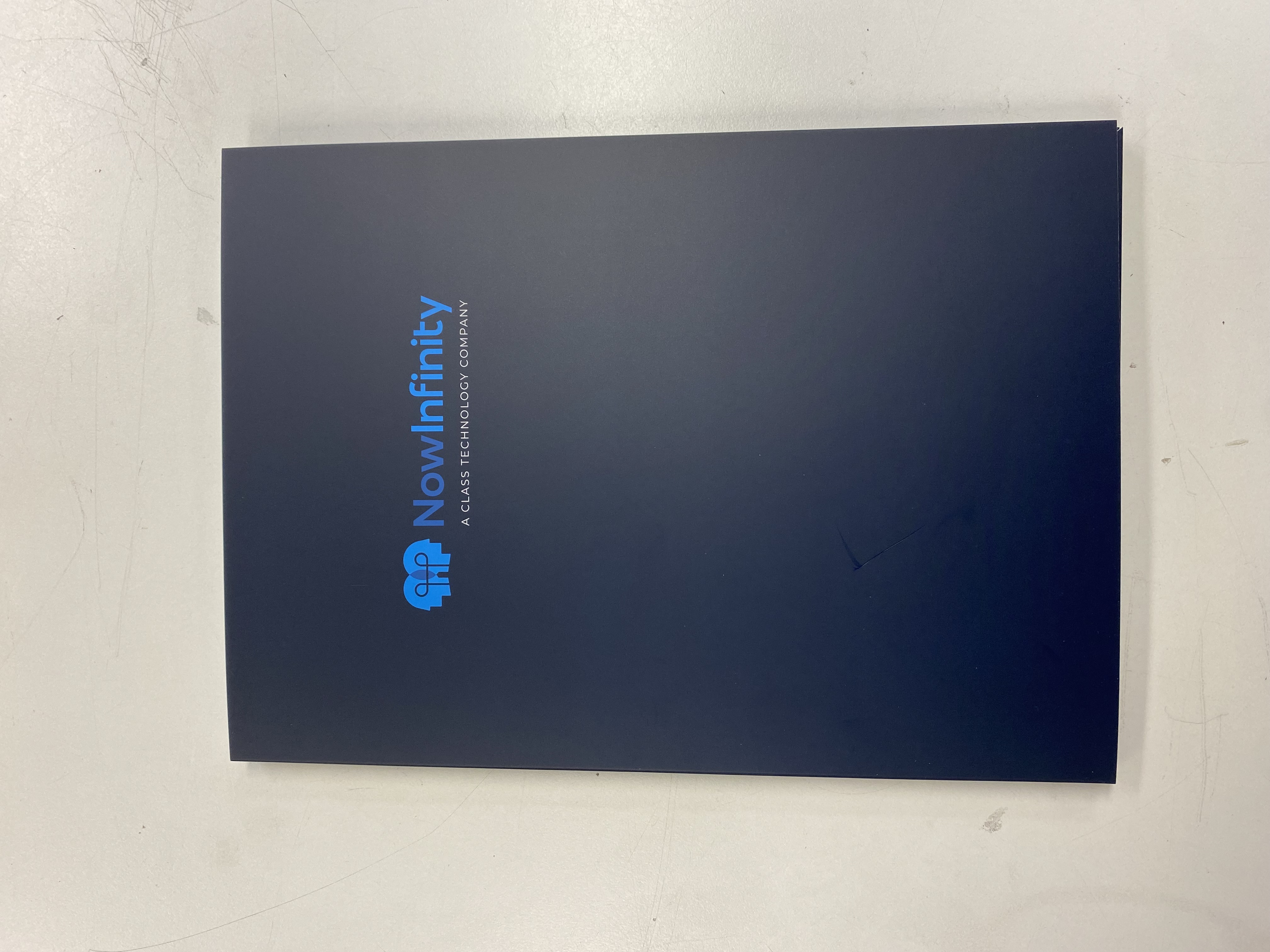 2. Hard copy: a Black hard 2 ring binder and includes a set of Tabs for Company, Trust or Super Funds (depending on the product ordered) for filing documents. It has the NowInfinity Logo on the spine and a pocket on the spine where a Name Tag for the order is inserted.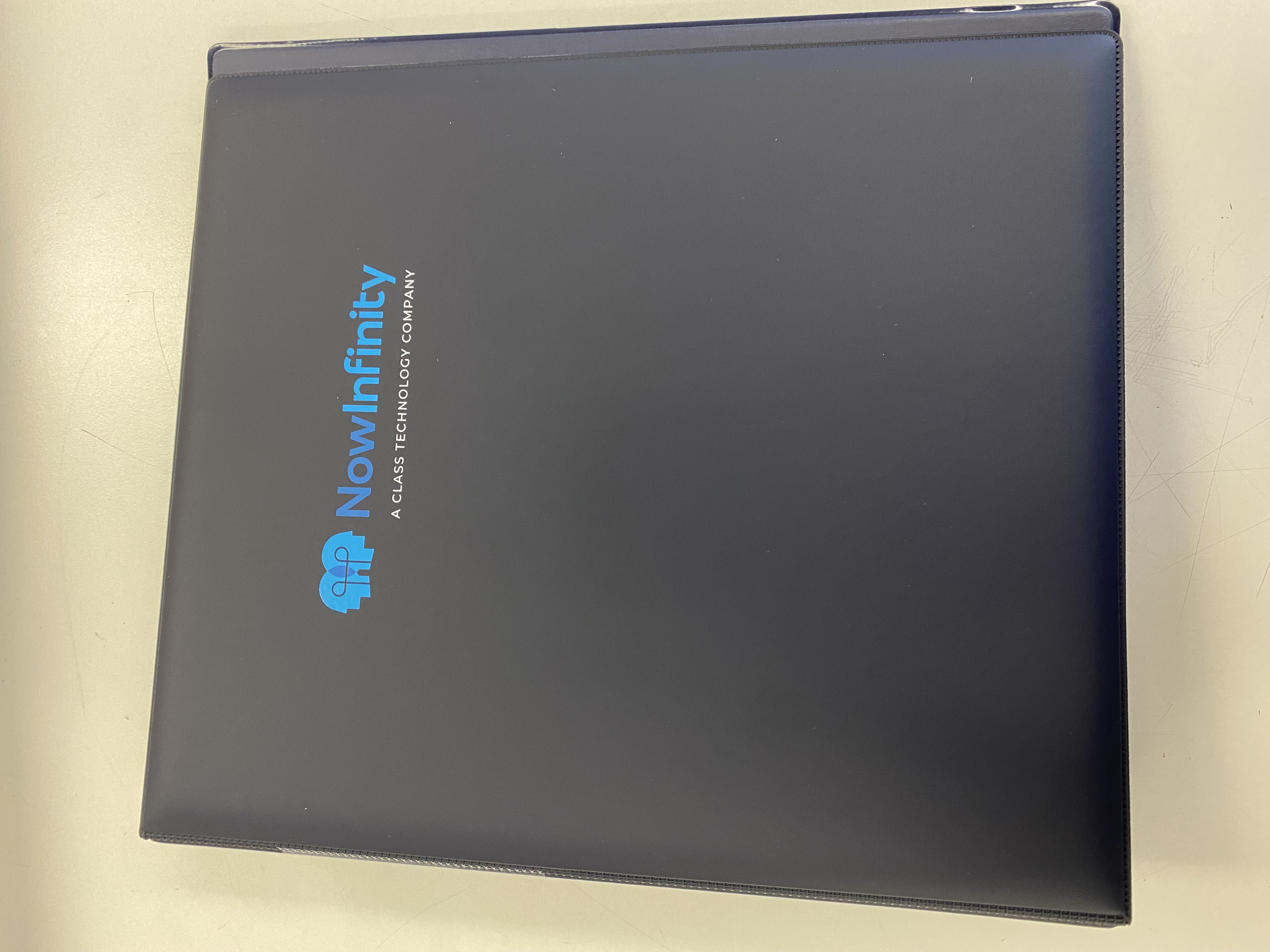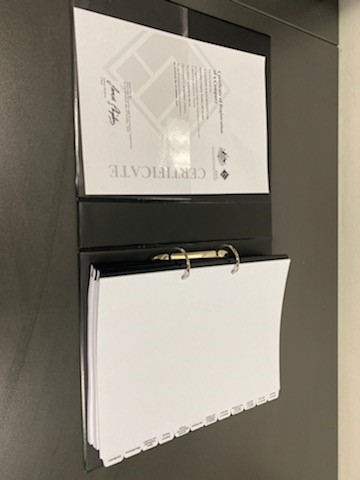 Steps for ordering a hard copy
Go to the Interview form > Presentation page
Click the radio button for Slimline or Hard Copy in the Presentation page - you will be routed to the payment page to pay for the hard copy
Confirm the following details:

the Recipient's name
Delivery address - to enter another address click on the "Find address" hyperlink

Click "Next Step" to proceed with the form
Click "Complete"
Note: You should ensure all the details are correct before submitting the order confirmation. Additional charges will apply if changes are made after the documents have been printed.
What does it cost?
The table below outlines the cost (GST inclusive).
| | | |
| --- | --- | --- |
| Presentation Type | Trust Deed Document | Company Registration Document |
| Slimline | $43 | $74 |
| Hard Copy | $100 | $110 |
The total amount due is inclusive of the Slimline/ Hard copy as well as the fees for the additional spare documents(if applicable).
Expected Delivery timeframes
Both Slimline and Hard copies will be sent using StarTrack courier services. Once we finalise your order, you can expect the document(s) to arrive within the next 24-48 business hours, between 9am to 5pm.
Note:
For company registration documents, the Form 201 is not included in the Slimline or Hard copy presentation folders.
For further assistance, contact our Customer Service Team on 1300 851 057 or email info@nowinfinity.com.au.