All annual statements received on NowInfinity can be accessed under the 'Annual Statement' tab located on the Menu.


Statements that are yet to be opened and require processing you will find these in bold.
Once the statement has been opened the font will be unbolded.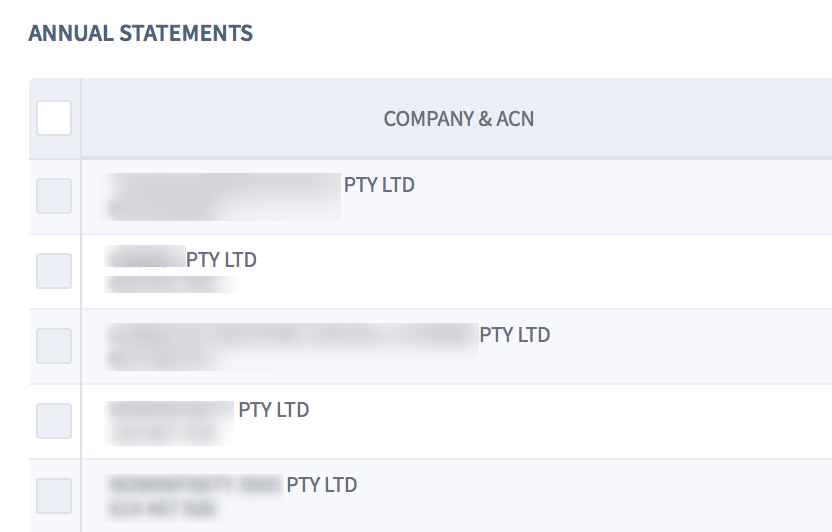 1. Table options

1.1 Sort and displaying
In the 'Show' drop-down box you have the ability to sort by the status of the annual statements.

You can use the search toolbar to search for a particular company's annual statement.
Click on 'My Statement' to see all annual statements which belong to you as the account manager of the company.

1.2 Annual Statement table
The annual statement table is located by Navigating to Menu > Annual Statements (located under Corporate Messenger).
The following guide will walk you through the information contained in this table.
Under status the table may contain the following:
Arriving soon: Statement is due in the next 3 days.
Received: Statement has been received.
Sent: Statement has been sent (either via email, DocuSign or download eml).
Signed: Signing has been completed.
Not Received: ASIC has already sent the statement electronically prior to the company being added to Corporate Messenger or prior to you being appointed as agent. In this case a 'merge' option is available for you to re-create the ASIC statement.
Reminders: this column will reflect the amount of created and sent reminders.
Signing status. if sent via DocuSign, the signing status will automatically be updated to 'Signed' when the signing process is completed.

If the statement has been downloaded via eml or sent via email, you will have the option to update the signing status by selecting the 'confirm signing' button.

Once you have confirmed signing, the status is changed to 'paper signed' and statement status changed to 'signed':

1.3 Filtering by tabs
You will notice multiple tabs at the top of the annual statement table which enables you to access different annual statements depending on their status.

All: Include all annual statements.
Arriving Soon: Annual Statement is expected to be received within one month.
Burning: Statements with a payment deadline approaching within the next two weeks.
Overdue: Payment deadline has already passed. Payment is overdue.