Some discretionary trusts contain a role known as the Appointor, Principal or Guardian. A key power of this role is usually to appoint or remove the trustees of the trust. Subject to the trust deed, the Appointor of a discretionary trust may be able to be changed using this deed of change.
You must consider the deed settling the trust, as well as each subsequent deed and instrument having an effect over the trust matters when determining how to effect a change of Appointor and who has the relevant power.

This deed takes the approach of retiring all existing Appointors (including any that intend to continue as Controller) and then appointing new Appointors (again, including any wishing to continue).

This deed also assumes that the Appointor is one or more individual(s).
Important: As with all documents created about an existing trust, you must consider the original trust deed, as well as each subsequent deed and instrument varying the terms of the trust when determining whether it is appropriate to use this document. The document assumes that the Appointor, Guardian, Principal or similar power holder (Controller) has the power to retire and appoint a replacement Controller in its place. It assumes that no consent is required from any party to implement this change, albeit notice to the trustee is provided by way of having the trustee execute the deed. Whether this is sufficient will depend on the terms of the trust deed. If you are unsure of this position, it is recommended that you seek legal advice.
'Change of Appointor' document allows for appoint, removing or changing the Appointor (controller) of the Trust.
To start this process, you will need to click on the 'Change of Appointor' button under the 'Trustee & Appointor' heading.

You will then be redirected to the relevant webform, to which the form will be pre-filled with the relevant data that has currently been added or imported into the trust profile of the trust. You will need to complete any data that has not been pre-filled. These data fields will be highlighted in pink. You cannot submit the webform until all relevant data fields have been completed.
Tip: To find the relevant appointment and retirement clause, you will need to refer to the most current Trust Deed of the Trust.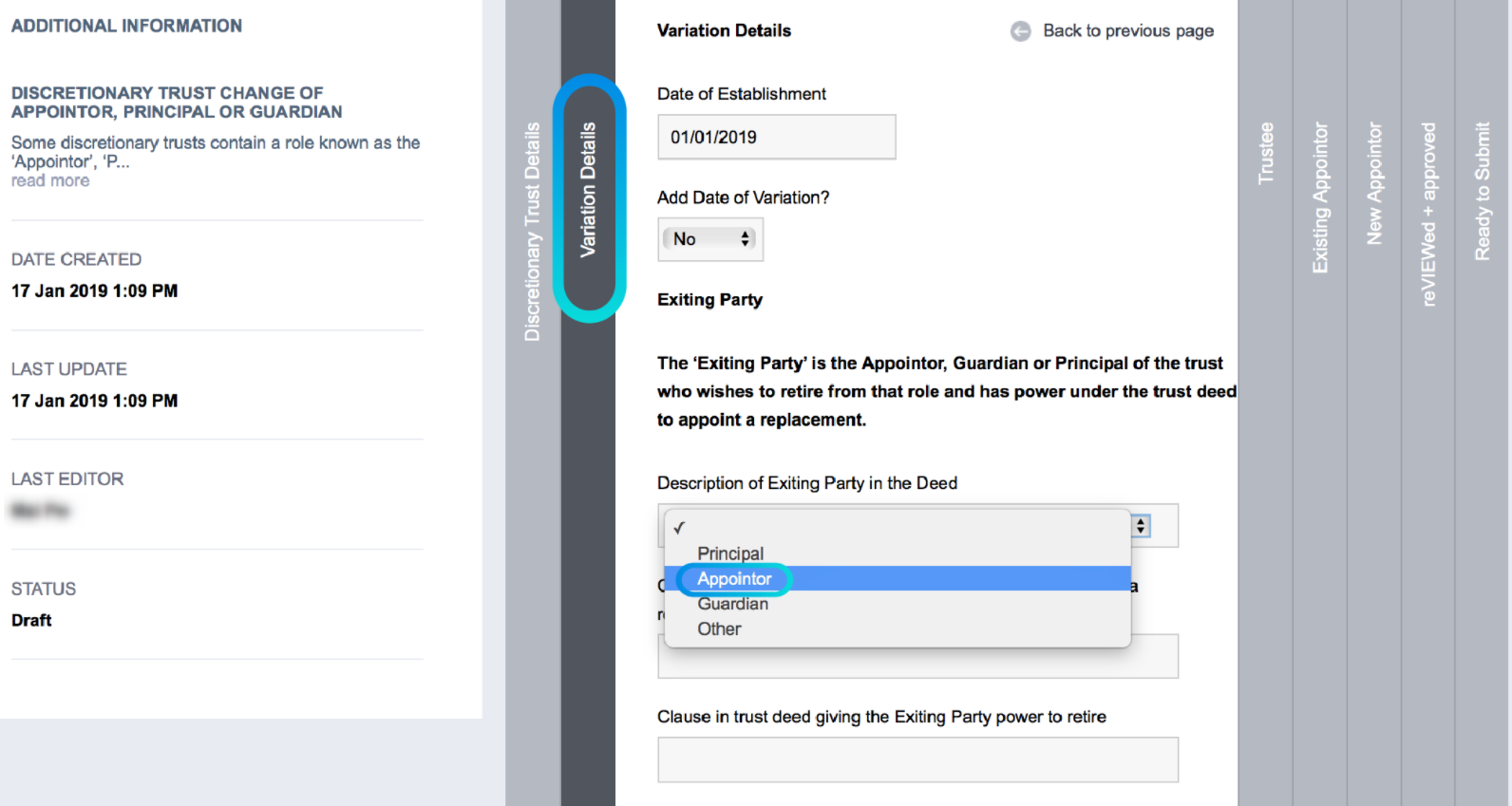 After submitting the details, the relevant documentation will appear on the 'collaboration page' i.e.:
Discretionary trust (change of appointor ancillaries) - signed by Trustee;
Discretionary trust change of appointor - signed by Trustee, existing and new appointor(s). person specified on the form;
Flyer – Information document
Legal review certificate
Once the 'Deed of Appointor change' documents has been signed by the client, you will need to either change the status on the collaboration page ('Paper signing' option) or on the Trust Profile (Mark as Signed' options).

Once this has been done, the new Appointor changes will be updated on the trust profile.