Navigate to Menu > Portal Settings > User Management
All users of the NowInfinity platform can be found in this section.
This article will show you how to:
How to Add a New User
Click Add New User



Enter the required information.
Note: Ticking Is Portal Administrator will give the User access to Portal and Product Settings pages. Access should only be granted to Users who have authority to change settings within the platform. Click here for details on managing access permissions:

Click Save
The new user will receive a Welcome email with a link to set up their first password.
How to edit User Information
To edit a User's information, click the Pencil icon next to their name: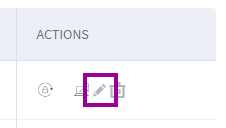 How to Delete User
To delete user from the Account, click Delete icon next to User name:

How to Unlock a User Account
User accounts will lock after the User reaches the number of failed login attempts specified in Portal Settings > Access. To unlock a User Account, click Unlock & Reset Password icon next to user name:

How to Reset a User's 2FA
To reset the User's 2Fa, click the Reset 2FA icon next to User name: