'Change of Trustee' document allows to your appoint, remove or change the Trustee of the Trust.
To start this process, you will need to click on the 'Change of Trustee' button under the 'Trustee Details' heading.

You will then be redirected to the relevant webform, which is pre-filled with relevant data that has been added or imported into the Trust profile. You will need to complete data that has not been pre-filled. The data fields are highlighted in pink. You cannot submit the webform until all relevant data fields are completed.
Tip: to find the relevant appointment and resignation clause, you will need to refer to the most current Trust Deed of the Trust. When determining who has the power to make the trustee change, it is critical to consider the deed settling the trust, as well as each subsequent deed and instrument having effect over the Trust's matters.
Important: This Deed of Change of Trustee takes the approach of retiring or removing all existing trustees (including any that intend to continue as trustee). New trustees are then appointed (including any that wish to continue).
You will be asked who has the power to make trustee changes. The options are either the trustees or 'other'.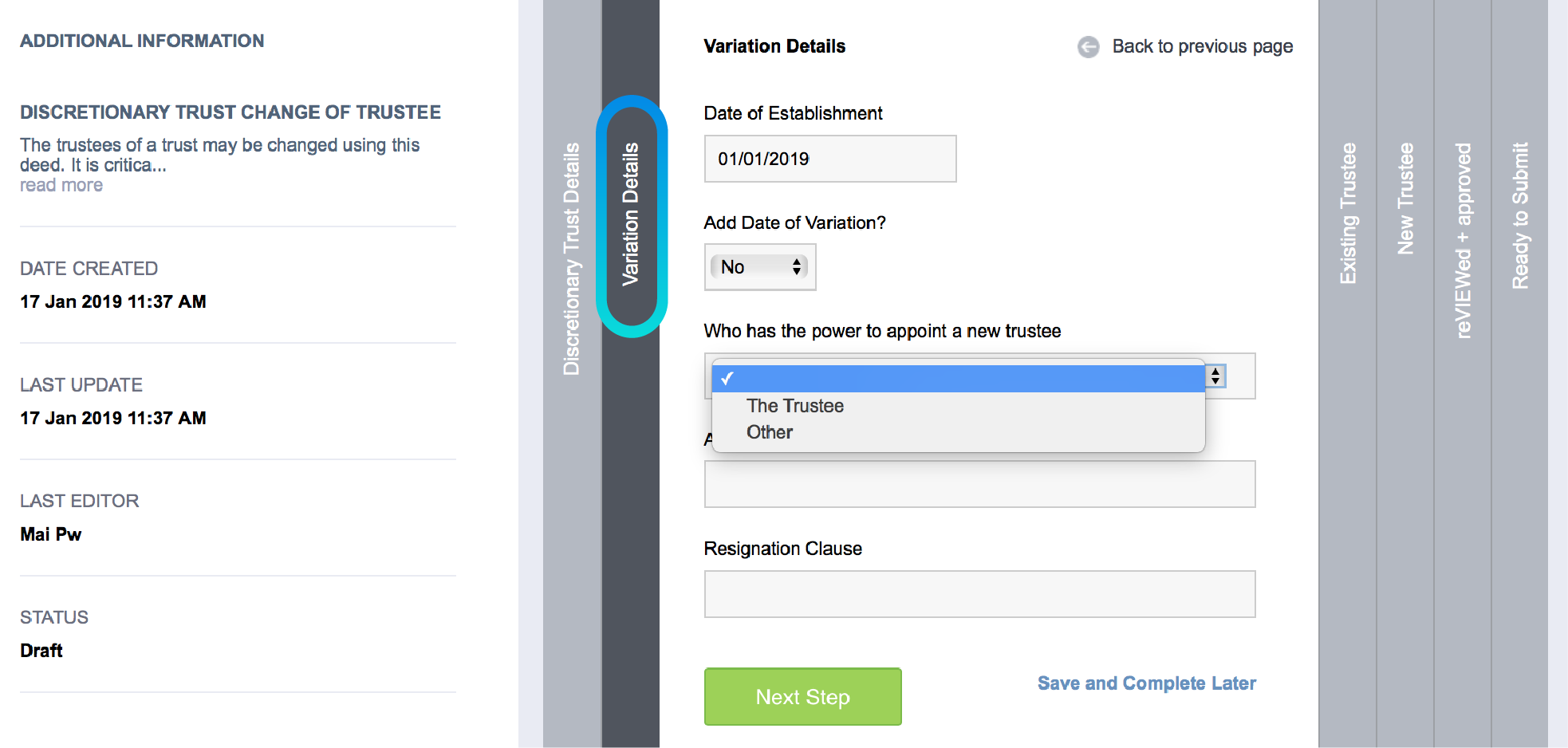 If 'other' is chosen, an additional webpage will need to be completed with the details of the 'appointing party'. Details of the 'appointing party' will be disclosed in the current trust deed of the fund. If you are unsure who the 'appointing party' is, it is recommended to seek legal advice.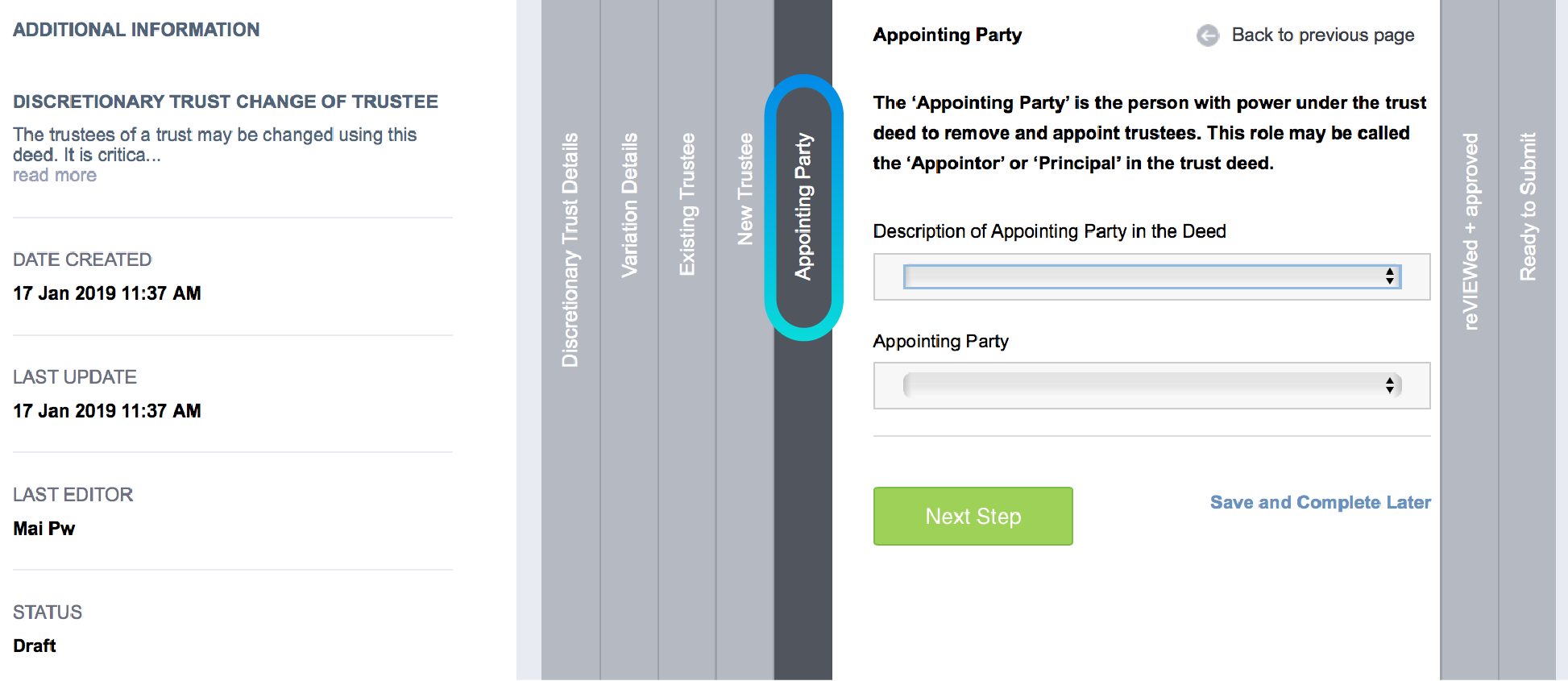 A drop-down box will appear in relation to 'Description of Appointing Party'. The following are relevant options:
Unitholders.
Other: once selected, an additional 'Description of Appointing Party in the Deed' field will appear for data to be input manually.
No description: there's no additional information to provide.
After submitting the details, the relevant documentation will appear on the 'collaboration page' ie:
'Resolution of appointing party' - signed by appointing party.
'Deed of change of trustee' - signed by exiting, new and appointing party.
'Flyer' - information document.
'Director / Trustee resolution' document - signed by Trustees.
'Legal Review certificate'.
Once the 'Deed of Trustee change' documents have been signed by the client, you will need to either change the status on the collaboration page ('Paper signing' option) or on the Trust Profile (Mark as Signed' options).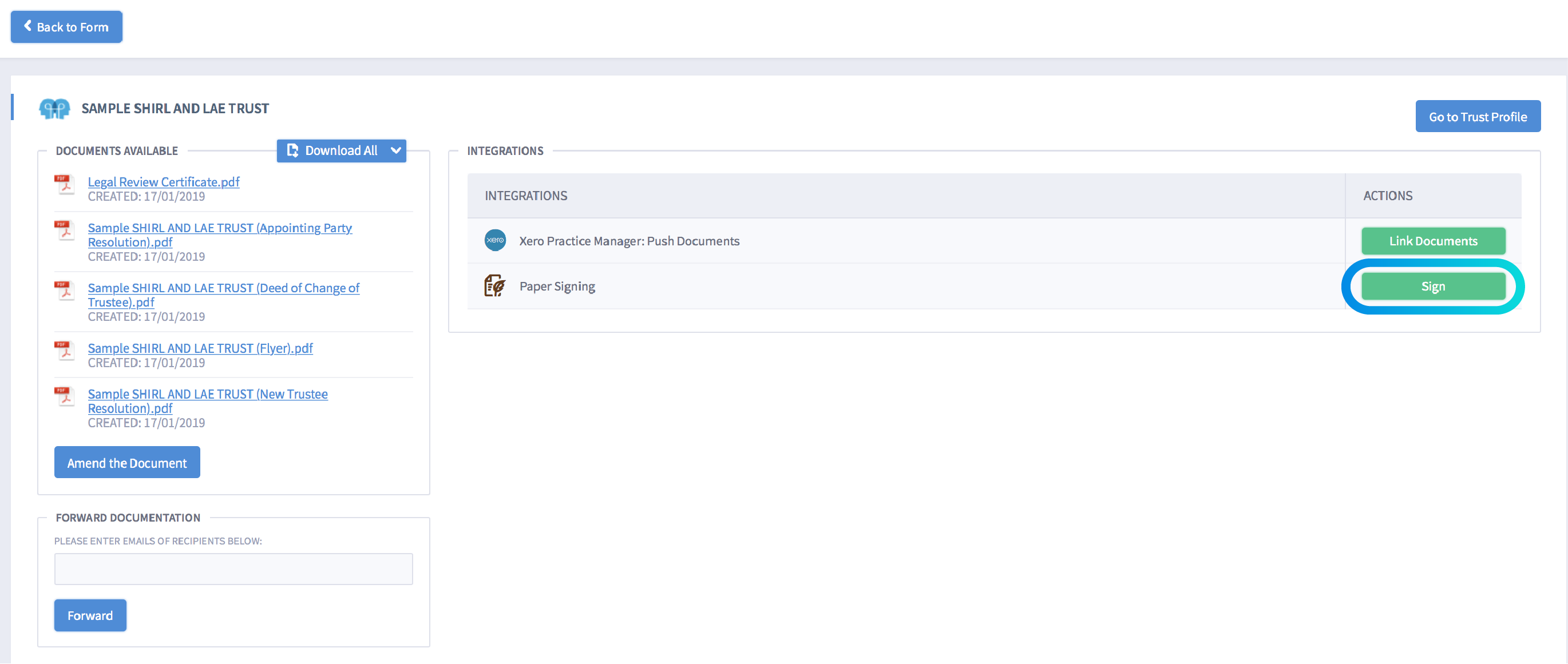 Once this has been done, the new trustee changes will be updated on the Trust profile.