This article provides an overview of the SMSF Deed of Variation.
Question
What is the purpose and use of an SMSF Deed of Variation?
Answer
The SMSF Deed of Variation document form is used when the Fund is looking to adopt a new set of rules (i.e. the governing rules of NowInfinity's SMSF Deed which have been reviewed by our legal services provider to ensure that it is up-to-date with current legislation). It is effectively a deed which varies the provisions of the SMSF deed, made under a variation power (which can be found in the original establishment deed or the last Deed of Variation).
It may be used where, for example, the trustee wishes to update the Fund's governing rules because they have an "old deed". With the rapidly changing nature of superannuation rules, it is generally recommended that SMSF deeds are reviewed and/or "upgraded" at least every 3-5 years.
Examples of when you might consider seeking an SMSF Deed of Variation:
You want to ensure the SMSF's governing rules are up-to-date but also as flexible as possible. This will allow the fund to take advantage of any strategic and investment opportunities available within the confines of the law
Before implementing a major decision in the Fund e.g. undertaking an LRBA to ensure there is an express provision allowing for this, or commencing an income stream
You know there has been a major legislative change e.g. in July 2021, the SIS Act was amended to allow SMSFs to have up to six members which may be advantageous in certain circumstances
You want a non-lapsing Binding Death Benefit Nomination (BDBN) but your current deed does not allow for it (so it is subject to the usual 3-year lapsing rule). By allowing for non-lapsing BDBNs you can avoid the potential scenario of a member dying without a renewed BDBN.
Special Notes
If an SMSF Deed of Variation has been executed, it is recommended that new Death Benefit Nominations are signed where possible so they are updated.
This means when a future trustee, member or Legal Personal Representative (LPR) is to interpret them, they will not have to consider the terms of the earlier governing rules which will apply to an extent. By having a new Death Benefit Nomination in place, only the current rules should be relevant.
If the SMSF has a borrowing, clients should refer to the terms of that borrowing and check whether lender's consent is required for any variations/amendments.
If prior amendments have been made, ensure they have been made in an appropriate manner. An invalidly executed prior amendment can result in an invalid Deed of Variation.
Navigating the NowInfinity Platform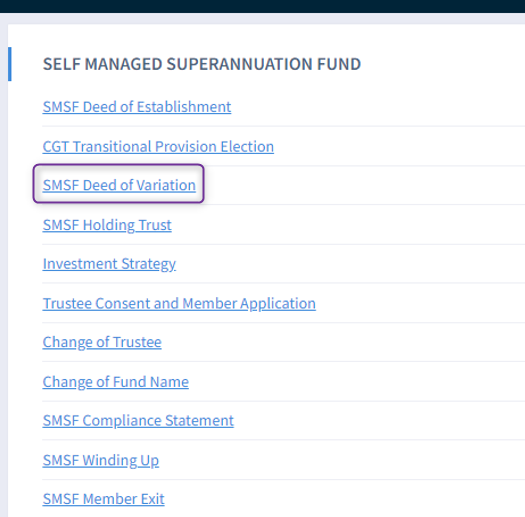 When you first click into the SMSF Deed of Variation document form, you will see the following warning:

Check whether there is a consenting party for any changes that are made to your Deed - this includes an employer sponsor/principal employer, lender etc.
If there is a consenting party, you will need to add legal review (scoped) to your order. If you need assistance with this, contact our support team.
The first tab "Fund Details" is shown below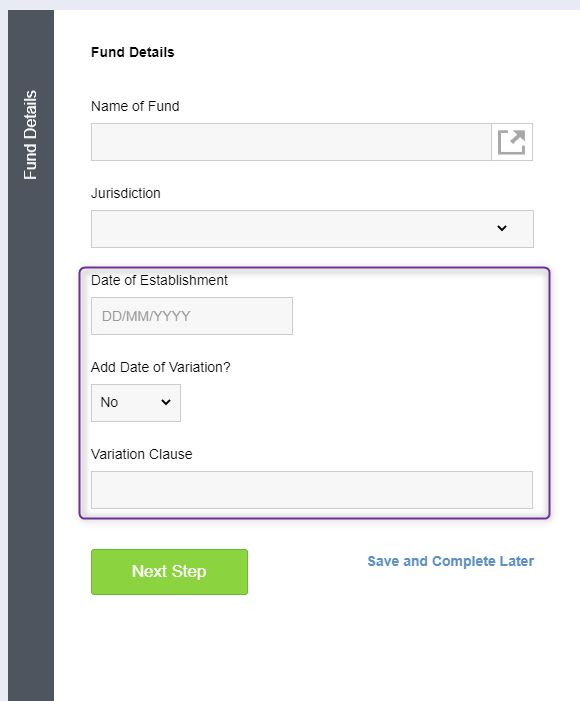 Explanation of each field in the Fund Details tab
The Date of Establishment is the date at which the original establishing Deed was signed/executed
The Date of Variation refers to the dates at which any prior variations had been signed/executed - this does not include e.g. a Deed of Appointment of a new trustee as this is not a variation of the terms of the trust (only a change of trustee made under a separate power to do so)
The Variation Clause refers to the clause number of the clause in the original establishment deed or most recent deed of variation which allows the trustee to make variations/amendments to the trust deed.
Note: NowInfinity cannot assist in interpreting your Deed as this would be legal advice. If you require legal assistance, it is highly recommended that you add legal review to your order.
Further Information
Please add link for
We have lost the original SMSF Deed, can we use the Deed of Variation form?
I want to add/remove a member to/from the SMSF, do I need to do a Deed of Variation?
Disclaimer: You acknowledge and agree that our Services and Materials do not constitute or contain personal or general advice for the purpose of the Corporations Act 2001 (Cth) and that we, our employees and advisers do not offer any legal, accounting, tax or other professional advice or services in connection with the provision of our Services and any Materials.