Step 1. Navigate to Menu > Completed Documents

Step 2. Enter the details into the 'Open a Bank Account' tab on the Collaboration page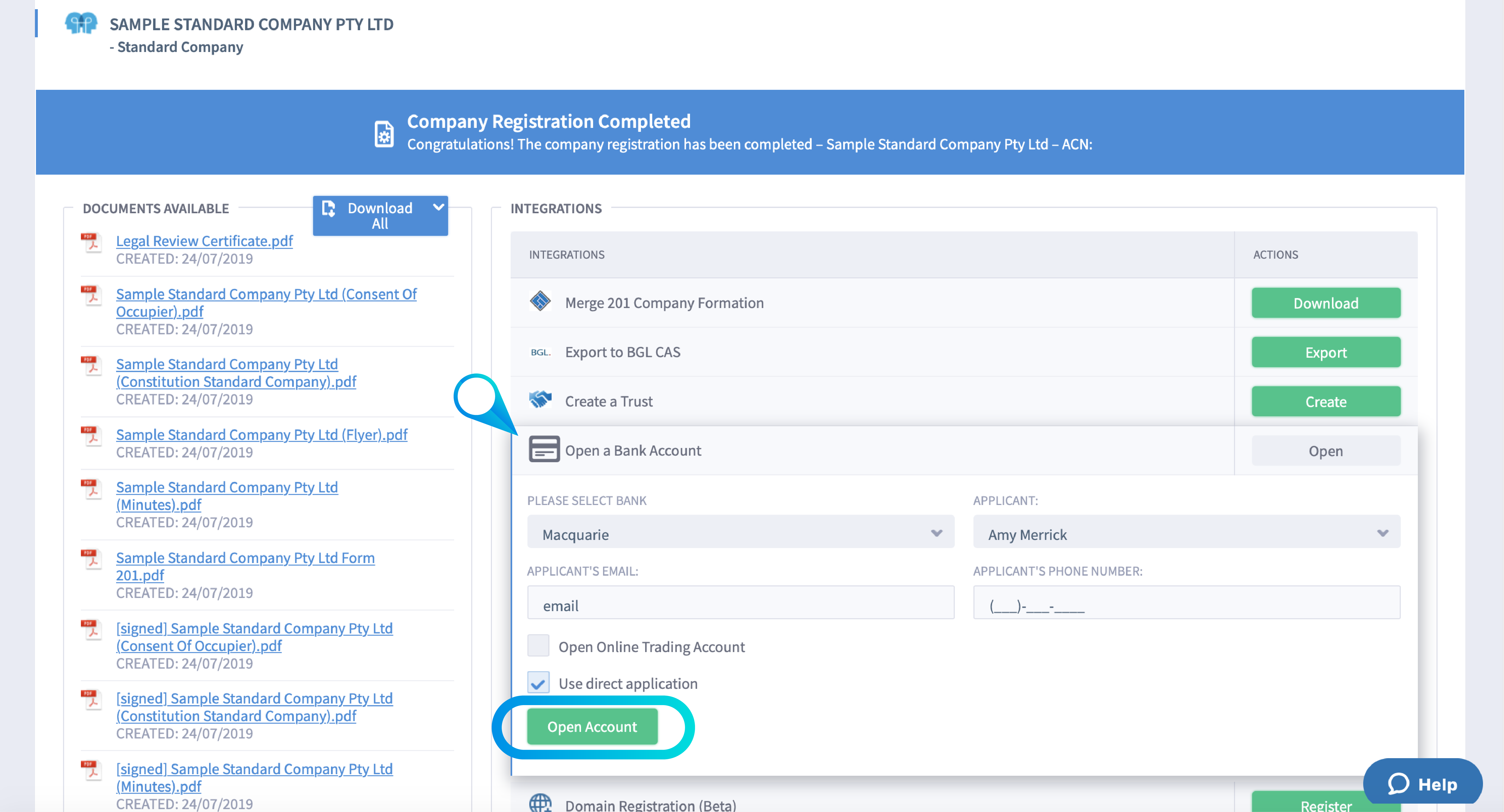 Step 3. Once the details have been entered and submitted, click on the "Open a Bank Account" tab and it will show the bank account details

Step 4. An email will be sent to the nominated email address from Macquarie Bank with an attached form. Once this form is completed it will need to be sent back to Macquarie Bank. Should they require further documentation they will send a follow up email. In this case the status would be "DOCUMENTS REQUIRED"
Step 5. Once Macquarie Bank has received the completed documents and they don't require any further information, the bank account will be set up.
Linking to Macquarie Advisor
Menu > Portal > Portal Settings > Integrations > enter account details > click Update Macquarie
Once this information has been entered all future bank accounts that are created will have the details below as the Advisor for the bank account instead of NowInfinity.

NOTE:
The Cash Management Account is the only account currently offered as an integration with the NowInfinity platform by Macquarie Bank.
The account product features are imposed by Macquarie Bank not NowInfinity.
Further information
When you open a bank account via the NowInfinity portal, the information about that bank account will automatically go to the NowInfinity register with Macquarie (regardless of whether the application is in progress or completed).
If you have your own register with Macquarie and you want the application to automatically go to your register, you will need to provide us your ESI Credentials from Macquarie. To do this, you will need to navigate to Portal Settings > Integrations > Macquarie Setting.
When the ESI details are entered in the bank application, it will state that it is under your ESI account. The application will not be emailed to you regardless if your ESI details have been entered. Whilst this is the case, should any issues arise, Macquarie Bank will contact you.