The GreatSoft comparison report is generated after a sync has run. This report provides visibility to identify discrepancies between NowInfinity and GreatSoft.
When connecting to GreatSoft the default setting is that the auto sync option will be ticked. This means that the data will be sync automatically every night.

To open the current discrepancy report navigate to Menu > Portal > Portal Settings > Integrations > GreatSoft > click 'Download Report' which will open a PDF version of the report.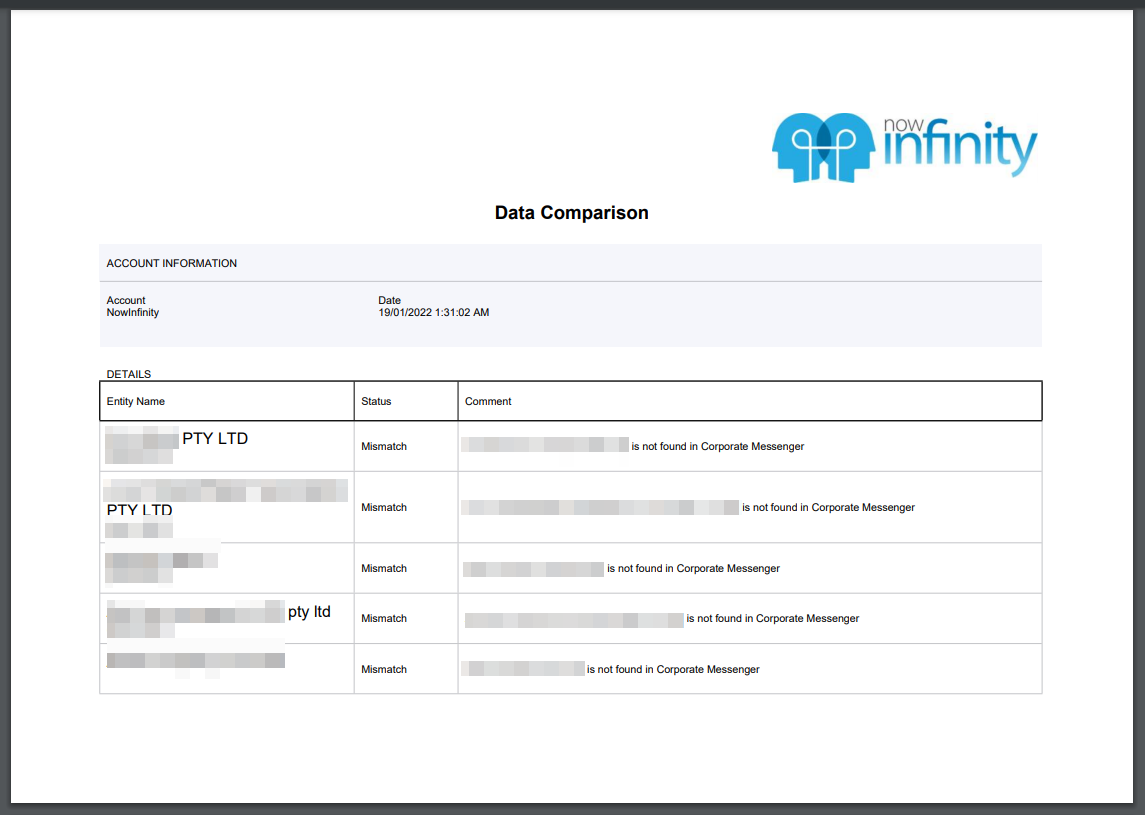 In the event that you wish for the sync to not be automated simply untick the 'Sync and compare entities overnight' box.
If this box is unticked you will need to manually click the 'Sync Data' button to generate a discrepancy report. Once clicked you will have the option to either compare data between NowInfinity and GreatSoft for Companies and run a refresh of the data appearing in NowInfinity for GreatSoft.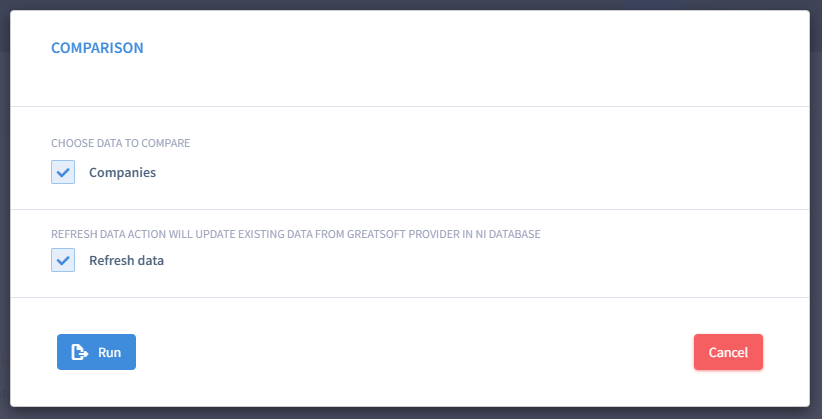 Should you wish to simply refresh the data untick the Companies box and click 'Run'.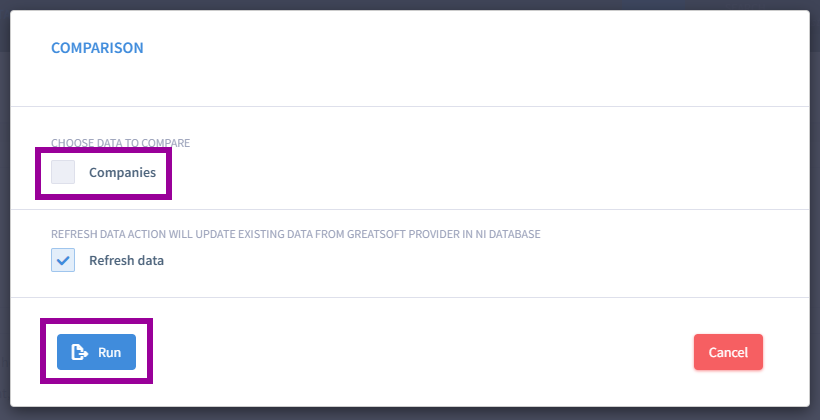 To run the report ensure boxes are ticked and click 'Run'.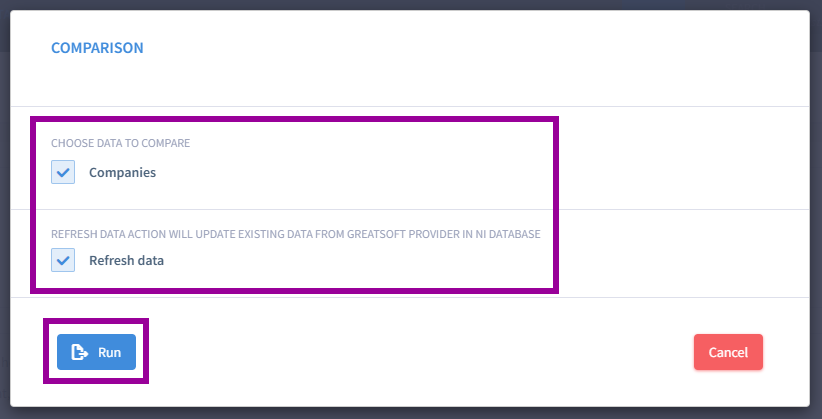 Once clicked the 'Sync Data' button will show a spinning wheel. After this time you will be navigated to the discrepancy report page. Here you will be able to view all of the current discrepancies between NowInfinity and GreatSoft such as:
Not found in Corporate Messenger
Not found in GreatSoft
Can't find email address in GreatSoft
Different Registered Address to GreatSoft
Different telephone numbers to GreatSoft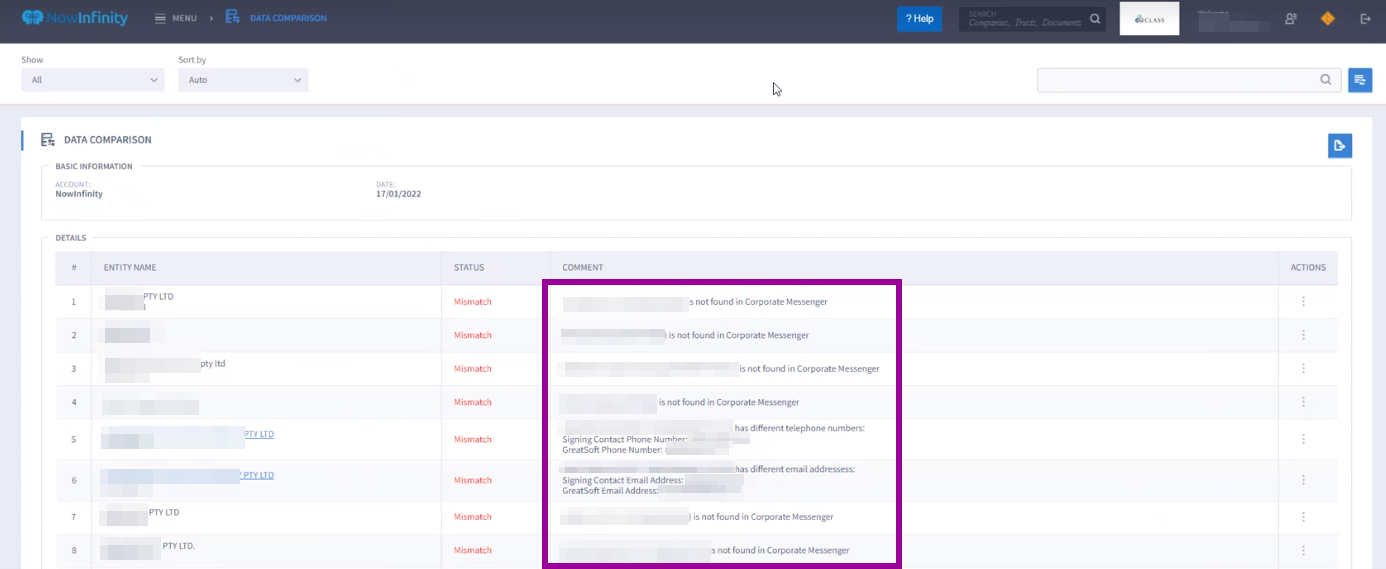 To resolve the discrepancies navigate to Menu > Corporate Messenger > Notification Center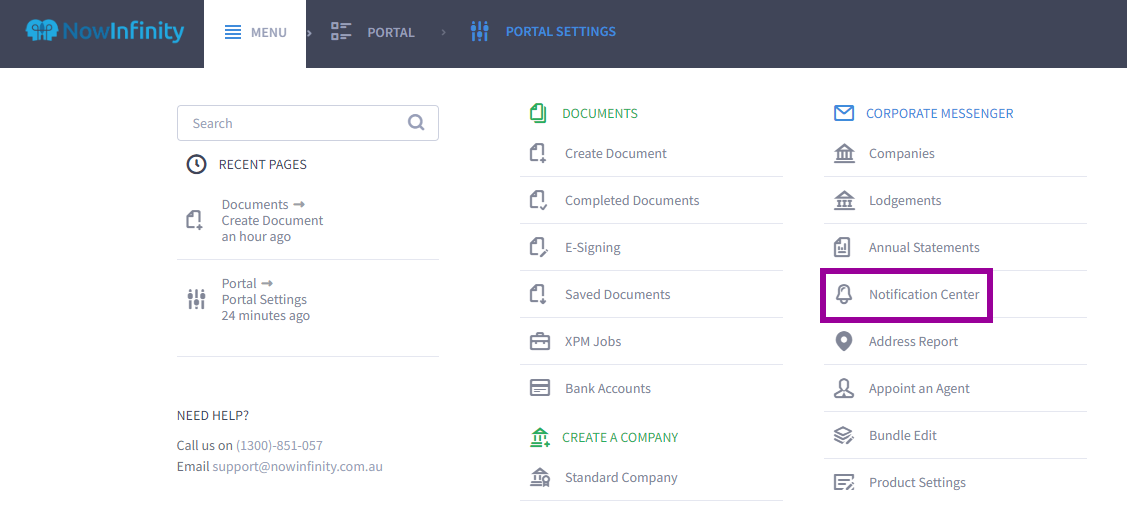 Here you will find notifications called 'Data Integrity Issues'. To resolve the discrepancy you can choose one of the blue button options eg 'Add Company to NI', 'Change Registered Company Address in NI' or 'Change Registered Company Address in GreatSoft'.

If you chose any of the buttons referring to NowInfinity the appropriate ASIC form will open eg if 'Add Company to NI' is clicked the 362 Agent Appointment form will open and the 484 Change of address form will open if wanting to change the registered address in NowInfinity.
Should you not wish to change details for a company that has a 'Data Integrity Issue' you can simply click the red 'Ignore' button. This will remove the discrepancy from appearing in the report and will no longer require any further action.

Once a 'Data Integrity Issue' has been ignored, messages will appear to advise it has been archived and the buttons will disappear.