Question
Which documents are included in the LRBA Suite?
Answer
The LRBA Suite provides documents for the establishment of the Holding (Bare) Trust and the LRBA (Limited Recourse Borrowing Arrangement).
All documents can be ordered as an instant digital copy via email, Slimline Package or a Complete Binder Package.
The template can be accessed from Menu > Create Document > Loans > LRBA Suite: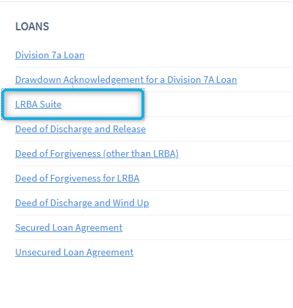 The documents produced will depend on the selections made when completing the interview form.
If "New Holding Trust & LRBA" is selected
The below documents are produced:
Holding Trust Deed
LRBA Checklist
LBRA Minutes
LRBA New Loan Agreement
LRBA PDS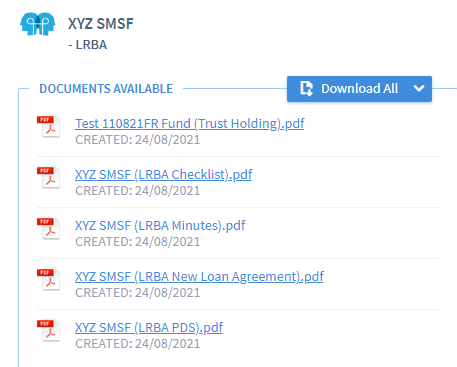 If "Amending Existing Agreement" is selected
The below documents are produced:
Amendment to LRBA Arrangement
LRBA Checklist
LRBA Minutes Amendment
LRBA PDS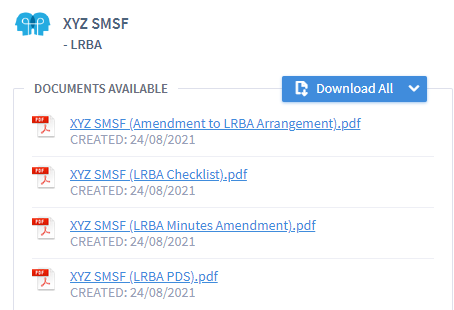 If "LRBA Refinancing with Existing Lender" is selected
The below documents are produced:
LRBA Checklist
LRBA Minutes Refinance
LRBA New Loan Agreement
LRBA PDS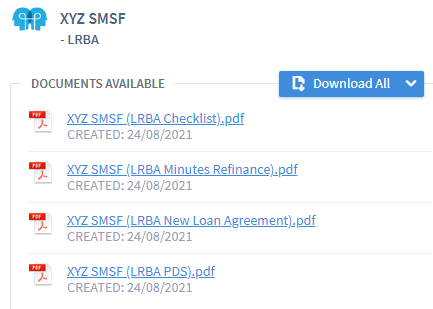 If "LRBA Refinancing with New Lender" is selected
The below documents are produced:
LRBA Checklist
LRBA Minutes Refinance
LRBA New Loan Agreement
LRBA PDS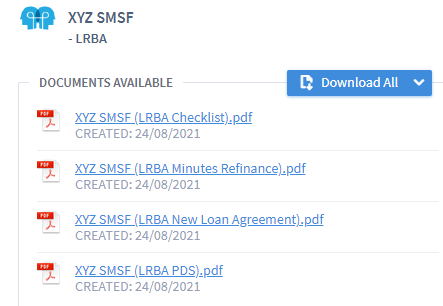 Further Information
Limited Recourse Borrowing Arrangement (LRBA) and Holding / Bare Trusts