Navigate to Menu > Companies

1) The "Show" dropdown box allows you to filter your companies list to show either active, archived or deregistered companies.
"Archived" includes all companies that are no longer associated with your agent number. In this instance, you have either lodged a 361 form to cease you as the agent of the particular company or a new agent has been appointed.
"Deregistered" includes all companies successfully deregistered.


2) Click on the Sort By dropdown box to sort companies by:
- Auto: alphabetically A-Z
- date of registration
- date of next annual review
- total debt – ascending order
- account manager – sorted alphabetically A-Z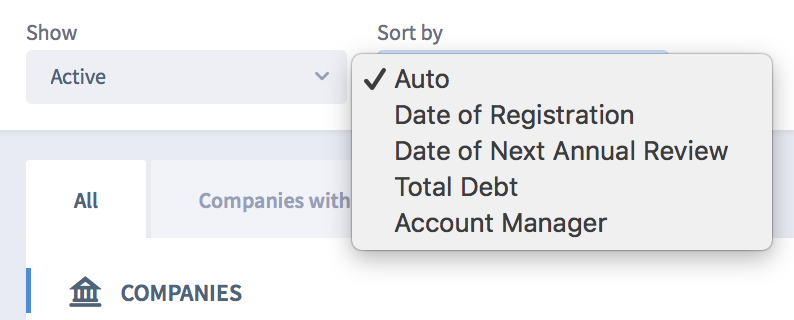 `
3) Sorting by tabs
In your companies table you will notice 3 main tabs.

"All" includes all active companies.
"Companies with Debts" includes all companies with an outstanding debt.
"Fees to Pay ASAP", includes Companies with existing debt for their annual review fee.
Note: Companies in "Fees to Pay ASAP" will only stay 10 days before and 10 days after payment deadline.
E.g. Payment deadline for the Annual Review fee is 15 April 2021
Company will be displayed in this tab from 4 May 2021 until 25 May 2021