Open the full company profile by Navigating to Menu > Companies.
Click on the name of a company and select "See Full Profile".
If there is a red banner displaying "Allotment Issue", as per below screenshot, this means there is a discrepancy between what ASIC have recorded for the Shareholdings, and what NowInfinity is displaying.
Change the drop-down box in top right-hand corner from "Main" to "Shares":

You will then see the Company Share Structure, and Allotment Table: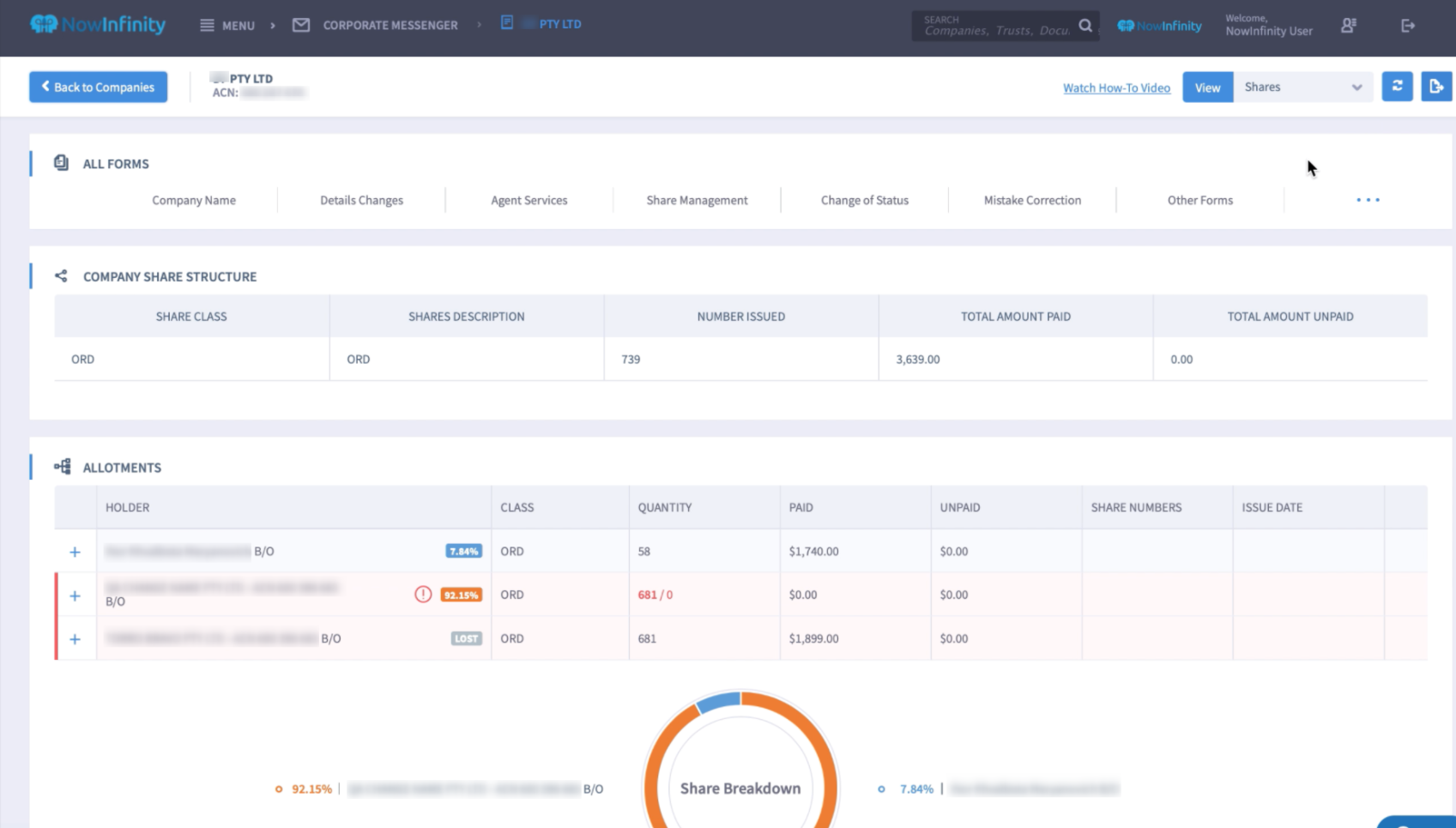 If the Allotment table shows "Lost" Shares", these need to be removed:

Click on the allotment, and remove the row by clicking the 3 dots to the right and selecting "Delete":

A pop up screen will appear to confirm the deletion of the allotment:

There will then be an allotment displaying red numbers and an error signal. Click on the row to expand.
If there is a value for the Shares, using the edit pencils in each column, adjust accordingly:

If there is no value for the Shares, or you wish to leave the values as they are, and add the missing allotments, select "Add Item" to add the allotment:

Click on the pen icon to edit the allotment details and enter the correct quantity and paid amount:

After the changes have been done, click "Save changes" to complete the process:

The red banner should no longer display, and no red errors should appear. If they do, refresh your page.
What causes allotment discrepancies?
There are many different reasons for allotment discrepancies to occur, a common reason is if a Form 492 has been lodged to correct a spelling error, or beneficial status of a Shareholder, the incorrect allotment will display as "Lost" and needs to be manually removed:

Sometimes correcting allotment discrepancies are not as straightforward, contact NowInfinity support for further assistance if you are not able to remove the discrepancy through the above steps.