NowInfinity's electronic signing provider is DocuSign. This feature allows you to send documents to your clients for electronic signing. You have the option to use your own DocuSign account or use NowInfinity's DocuSign account.
Once you have sent the document for electronic signing your client will receive an email where they can select "View Documents Online:

1. They will be routed to a DocuSign page to start signing the document. Tick "I agree to use Electronic Records and Signatures", and "Continue":


Alternatively, the "Other Actions" button will allow the client to decline the documents, sign on paper, or view session information. (If signatory selects "Sign on Paper" see further instructions at the end of this article):


2. After clicking "Start", the client will be directed to the section where they need to place their signature:


3. Then click "Sign":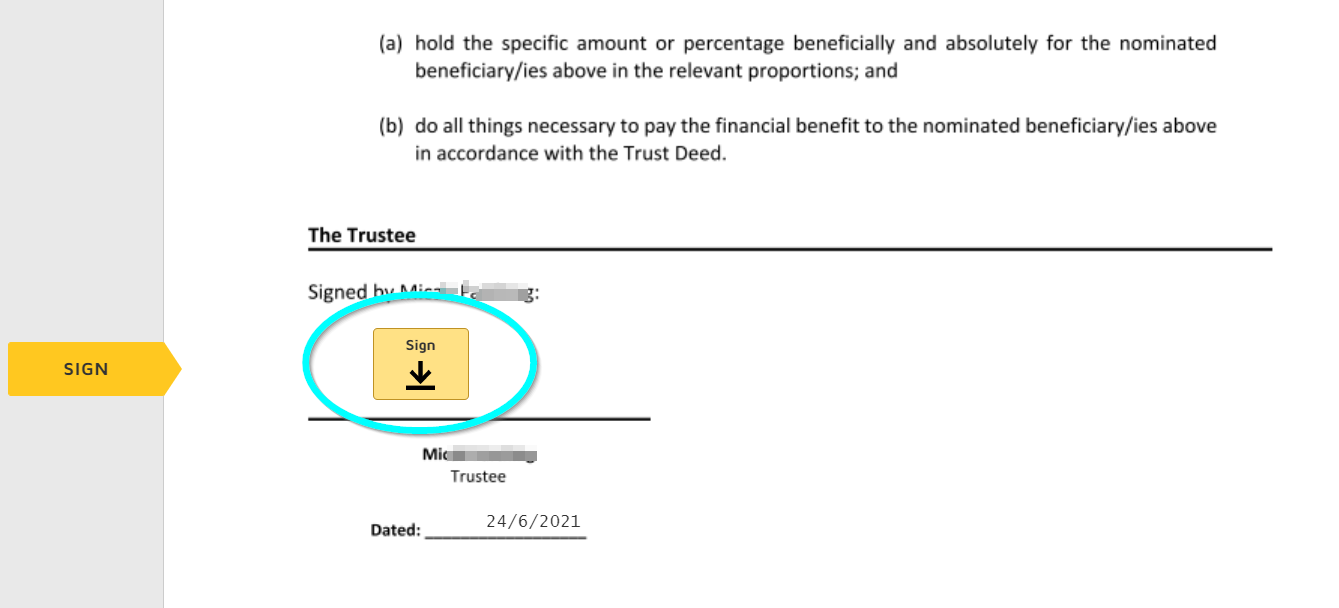 4. A screen will open where clients can choose which type of signature they would like to add to the documents.
Select Style - Typing their name, and choosing a font. Once chosen, click "Adopt and Sign":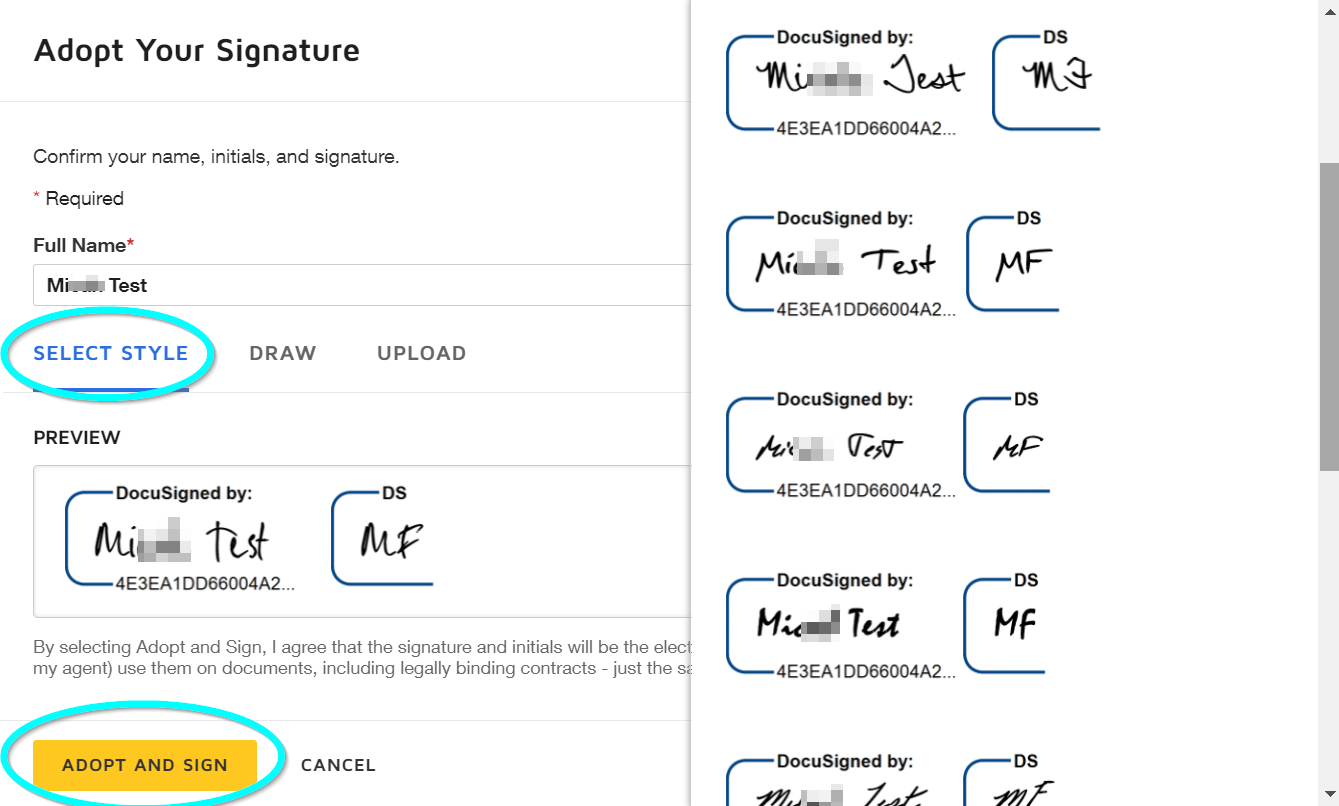 Draw - Using the mouse to draw their signature. If a mistake is made, use the "Clear Signature" option to start again. Once happy, click "Adopt and Sign":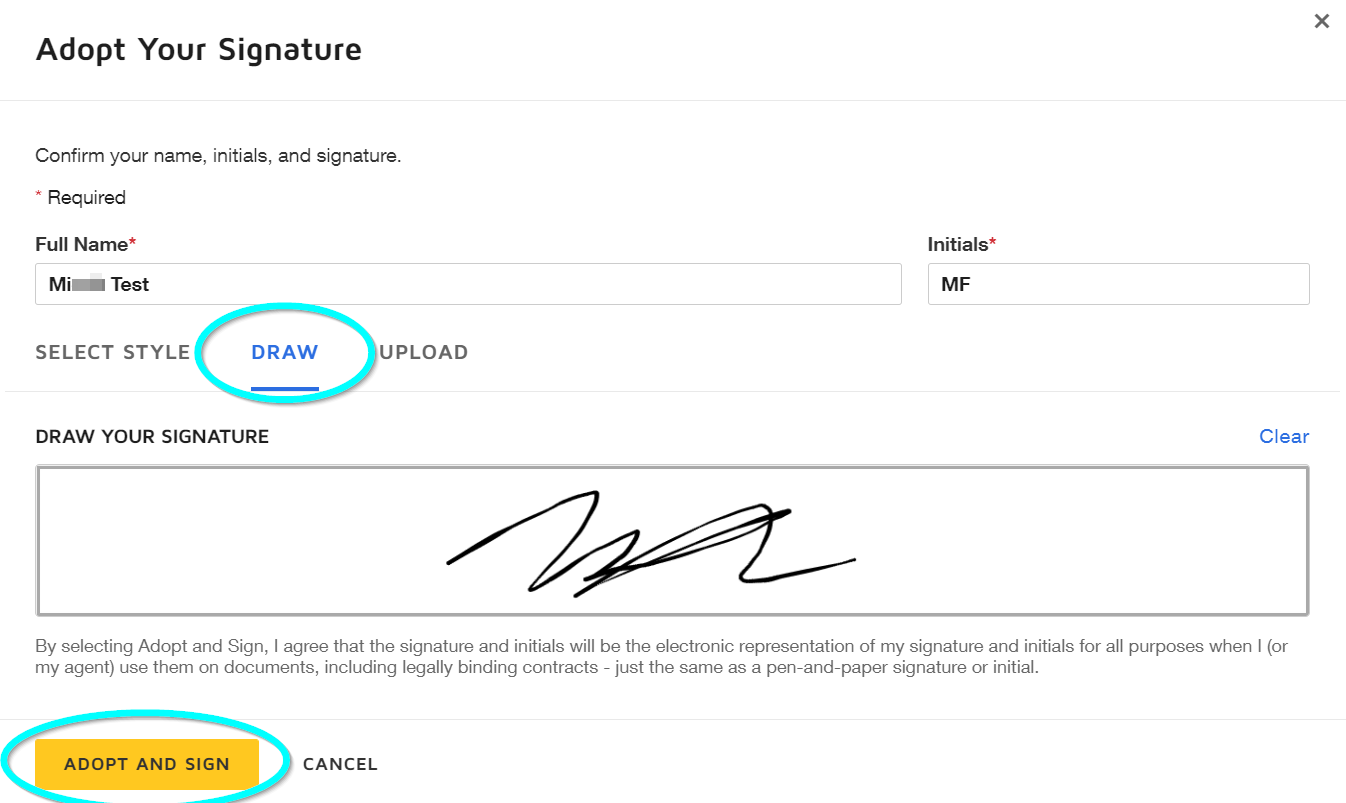 Upload - Uploading an image of their signature from their computer. Once uploaded, click "Adopt and Sign":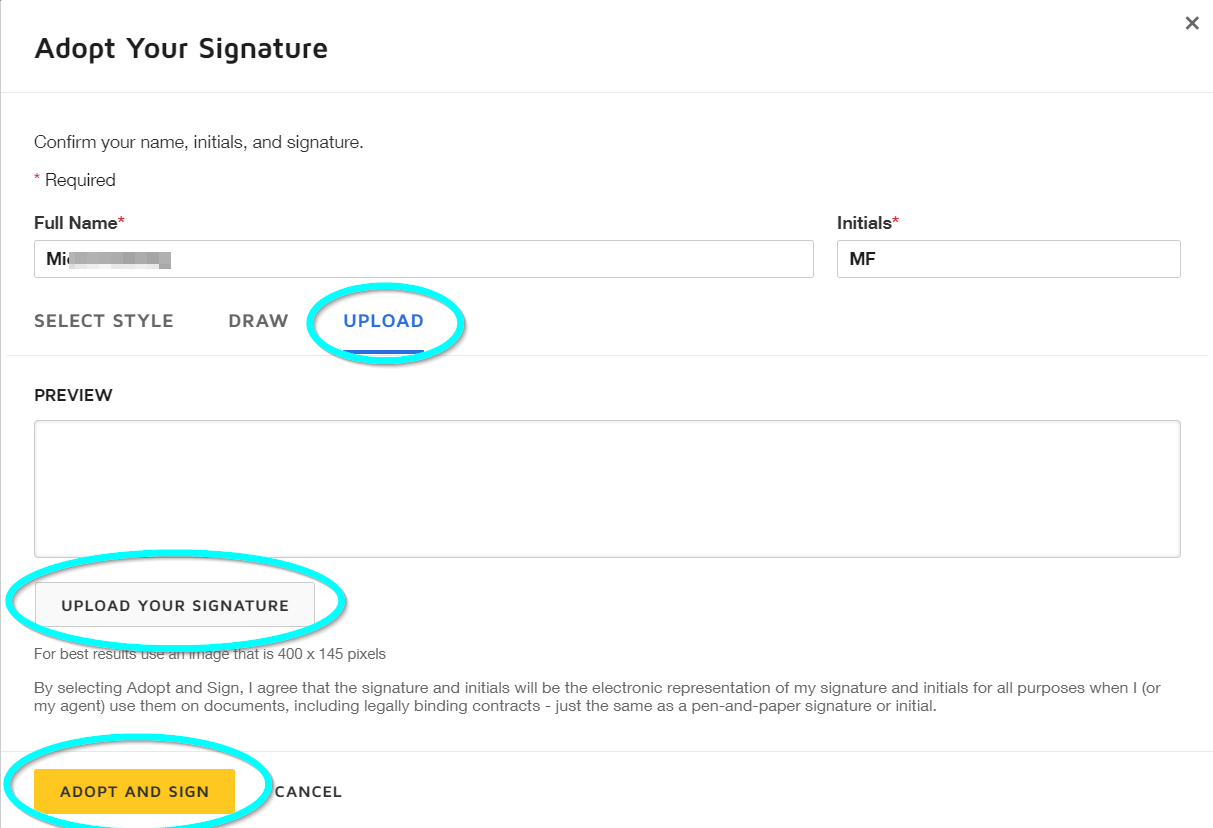 5. The signature will be added to the document. If there are more signatures required for the signatory, they will see "Next" display at the top right, select this to go to the next signing section and click "Sign" (as per step 3) which will apply the signature.
** NOTE Once they have chosen the option to use, the system will automatically route them to the sections where they need to place their signature:

6. A confirmation will appear that the documents have been signed successfully, (unless a witness signature is required, see below):


Witness Signing:
If the document requires a witness signature, a prompt to pass the control over to the witness for signing will display, the witness must be present with the signatory for this process. The witness can follow steps 1-6 above: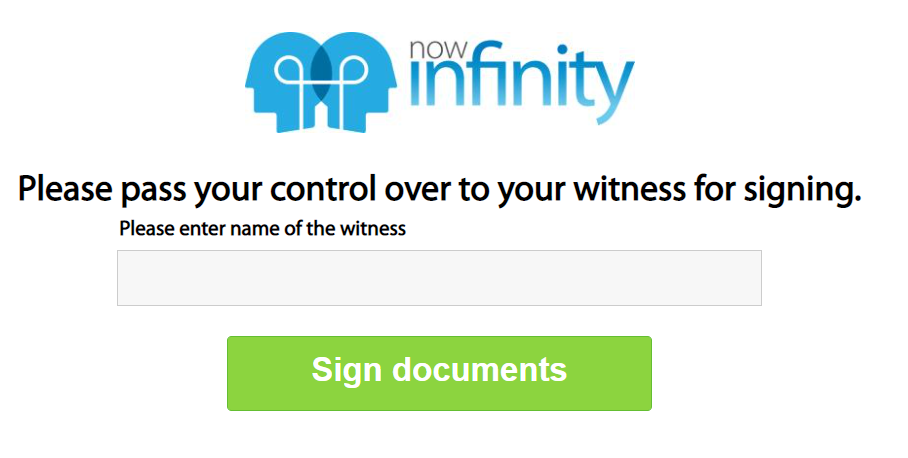 Once signing is completed, depending how you have your Electronic Signing Notifications setup, the sender, signatory or both, will receive an email with the signed documents. Once all signatories have signed, the signed documents will also be uploaded to the Collaboration page of the document: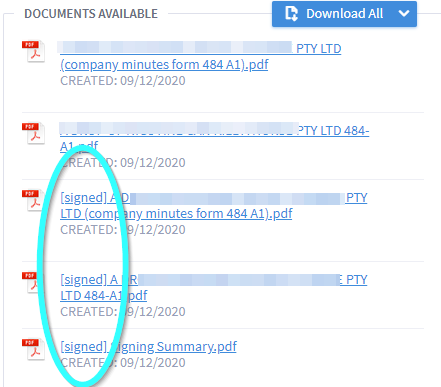 Paper Signing:
If any of the signatories prefer to paper sign the document they will need to download the PDF from within the e-signing link. Select "Other Actions" (from Step 1 above), and then "Print & Sign":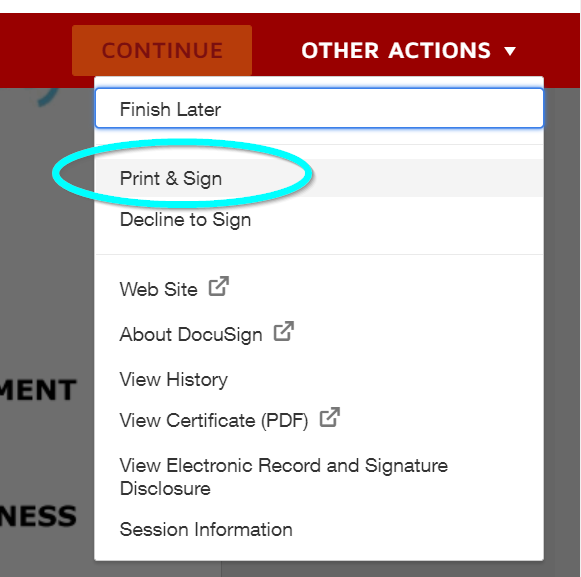 They can then select to "Upload" the document (this will allow them to download > sign > upload > send back to you):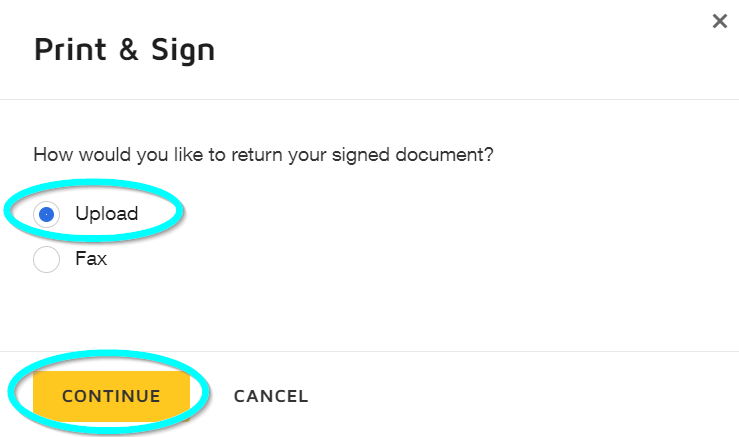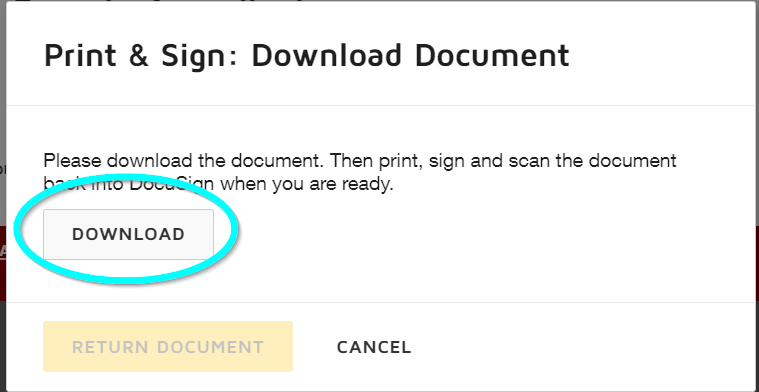 Once downloaded, clients can print the documents, scan and save them onto a file on their computer, and then select "Return Document" to upload it: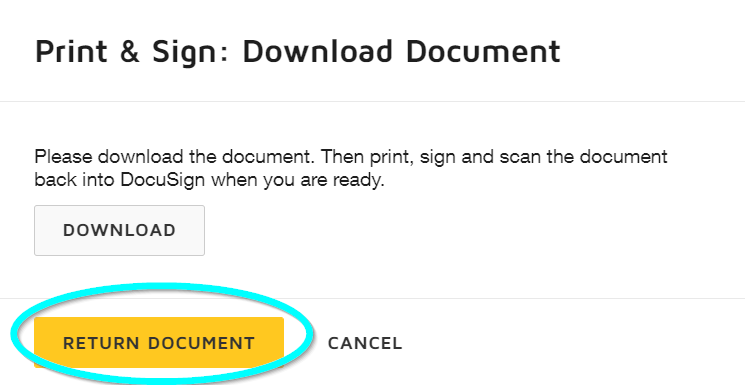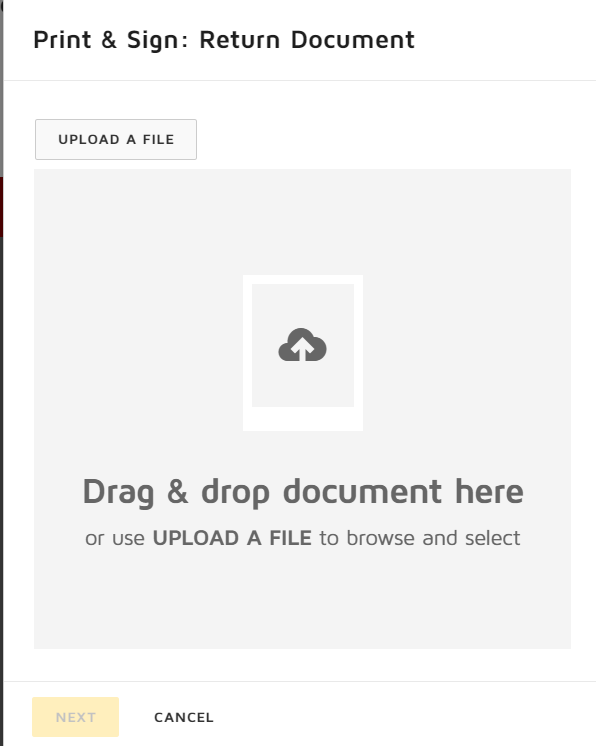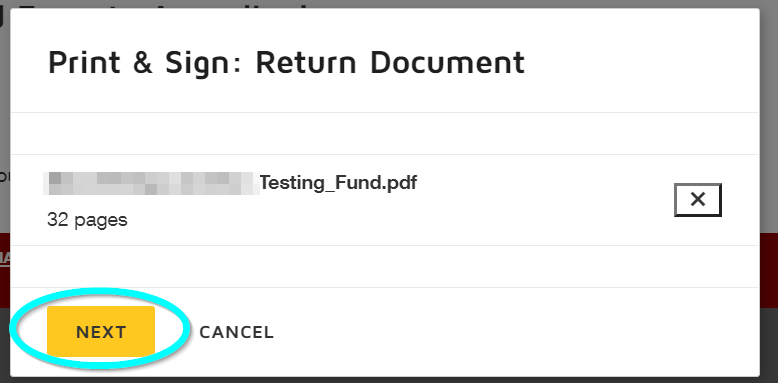 Please contact support if the uploaded, signed documents are not reflected on the collaboration page of the document,